Changing College Majors: It's Really Common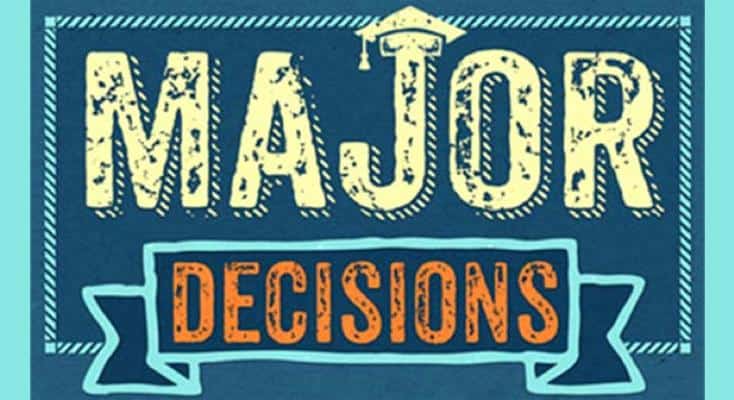 Are you worried that your teenager doesn't know what college major he or she wants?
In my experience, it's a common worry that parents of high school students experience.
Some of these parents have even told me that they want their children to start at community colleges if they can't pick out a college major in advance.
My response is to chill out.
Why should 17 and 18-year-olds know what academic major(s) they want to pursue in college?  Ideally that's what college is going to help them explore.
And as a practical matter, a significant number of students who declare a major before starting college will end up abandoning it.
A Third of Students Switch Majors
I thought about this issue recently when the U.S. Department of Education released its latest findings on the percentage of college students who switch majors.
According to brief report, 33% of students in four-year colleges, who started college during the 2011-2012 school year, ended up changing their major. And roughly one in 9 students, who were pursuing a bachelor's degree, changed their major twice.
Students who selected a major in a STEM (science, technology, engineering, math) were the most likely to jump to a different major.
And among all majors, math students were the most likely to abandon their original major. Fifty-two percent ended up with a different major.
Those intending on majoring in the natural sciences, which includes physics, chemistry, geology and biology, were the next most likely to bail on their major (40%).
The report also revealed that 28% of community college students change their major at least once.
Who Is Changing Majors
Here is a chart that shows who is switching majors: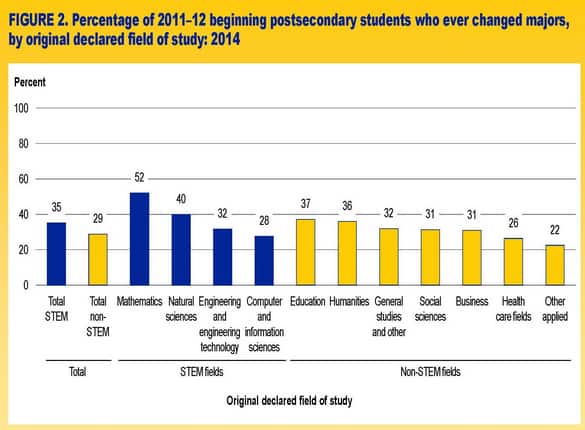 You can learn more about this report by reading this article in Inside Higher Ed:
Who Changes Majors? (Not Who You Think)
Is Switching Majors a Bad Thing?
I am someone who did switch majors and I'm glad I did. Before I headed off to the University of Missouri campus in St. Louis (just 1 1/2 blocks from my house), I declared history as my major. History was my absolute favorite subject in high school and I had grown up reading historical novels.
I signed up to work on the campus newspaper and I took UMSL's only journalism course at the time. A visiting professor taught the class.
After getting a taste of journalism, I was hooked and with the encouragement of the professor I transferred my junior year to the University of Missouri in Columbia which proudly boasts that it maintains the oldest journalism school in the country.
I graduated from Mizzou's J School on time. I will always be grateful that UMSL provided me with the opportunity to discover my true passion that remains so today.
Changing Majors and Graduating on Time
At some schools, changing a major will delay graduation, but a 2016 study suggests that students who change major graduate at slightly higher rates than those who don't.
You can learn more about this study here:
Bottom Line:
A significant percentage of students who select a major end up changing their mind anyway so there is not point in stressing out about it.
The important thing is getting a degree. Unless a child is aiming for a career that requires a specific major, such as engineering, nursing and accounting, I believe it's not all that important what degree you pick. If you don't believe me, check out your contacts on LinkedIn and see what majors they selected and the careers they ended up with.