Case Study: What 66 Schools Would Cost This Family
As I've said many times, students shouldn't be applying to colleges unless they have a good idea of what those institutions will cost them. It's easy to obtain these formerly elusive cost figures now that schools have installed net price calculators on their web sites.
Today I'm sharing the results from a mom (Lynne) who has used the net price calculators of dozens of schools that her bright daughter (Helen) may consider.
The family, which lives in the state of Washington, has a better chance of cutting its price because Helen is not limiting herself to certain types of schools or a particular geographic region. Her goal is to find a school where she is surrounded by students who love to learn. How refreshing is that?
What you see here is information about the family's finances and Helen's academic profile. Below that you'll find the cost calculations for 66 schools.
Family's Income & Assets
$150,000 combined income
$50,000 non-retirement assets
$200,000 home equity
$500 student assets
Parents in mid-fifties
One child will be in college with another two years behind
Teenager's Academics
3.97 GPA (one B+)
4 APs, (4s & 5s); 3 more senior year
5 honors (wherever available)
2nd & 3rd yr Spanish university-level classes
Approx #18 in class of 400. Many music classes (no honors available) probably brought that down.
Enjoys every subject but especially music and math/science.
2 years in high school video production program; won several prizes but doesn't want to go into show biz
ACT combined 32 (no prep);
SAT II: US History 740; Math II 790; Chem 800 – will take SAT I in the fall.
Her PSAT in 10th & 11th grade was 214.  (Editor's note: National Merit Scholarship range is usually between 210 to 215.)
Student's Interests/Passions
Instrumental Music (three classes in three instruments this year; played in national festival; gives piano lessons)
Volunteering for trail building crews (five one-week long trips over the last three years
Teaching x-c skiing to kids ((fourth year coming up)
All things outdoorsy – hiking/backpacking, biking, skiing, paddling.
We've got a good income now, but it's doubled in the last couple of years so we don't have a lot of retirement savings. So while we're happy to pay for her college education, we don't want to pay more than we have to! I am a little concerned about making sure the academics are adequate for her. Really though it sounds corny, her main interest is being surrounded by other students who love to learn.
Net Price Calculator Results for Helen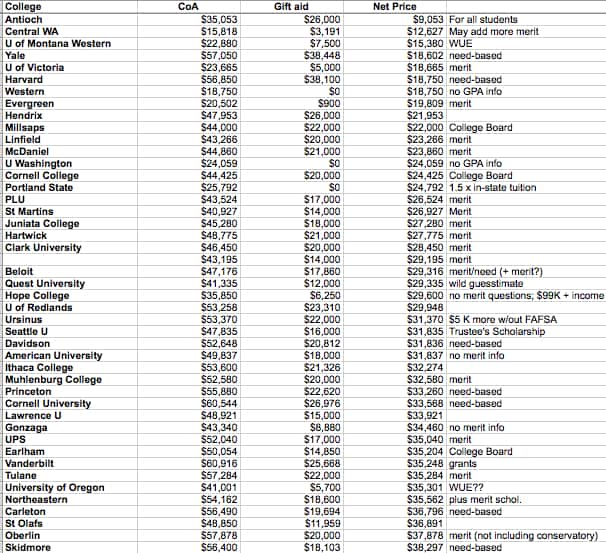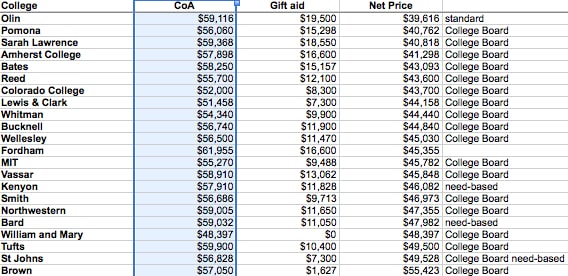 Bottom Line:
In summing up the results, Lynne noted that the less selective private college (as opposed to the private universities) and smaller state institutions were the most reasonably priced for her daughter. That's something that I've been saying for a long time.
Schools without instantly recognizable brand names must work harder to attract students and that means providing merit awards. The sticker prices of these schools also are typically not as expensive. Less well-known schools in the South and Southeast (Hendrix, Milsaps, McDaniel)  and Midwest (St. Olaf, Cornell College, Beloit, Lawrence, Hope) that are on this list, for instance, have sticker prices that are $10,000 or more cheaper than the brand name schools.
In contrast, the most elite schools don't have to worry about their prices, which is why these institutions are now bumping up against the $60,000 milestone.  While the most elite schools don't provide merit aid to rich students, they will give need-based aid to students like Helen, whose family makes $150,000. A family in this income range can't afford the published prices of the most costly schools.  Even with need-based aid, however, the elite private schools will still cost more than the schools that provide merit scholarships.
FYI, does anybody else find it outrageous that Brown University, for instance, would only knock $1,627 off its price.
If you have any observations about this list or topic, please share in the comment box below.
Learn more

It's 2020 and the cost of college has never been higher! Learn how to cut the cost of college by enrolling in my online course, The College Cost Lab.
Hi Gretchen,

I think 2012 is correct.

Lynn O.

What was the EFC of this family? That would make it easier to tell if colleges like Harvard are offering more than 100% of need, as they appear to be in this example.

I am not clear on two things: how there can be such a disparity between all these schools – I assume they all use a different approach to calculate the EFC? Also, I gather that in 2015 and beyond, a number of (mostly elite) schools will meet 100% of student need. Yet many of those schools are on this list – so why would the family still have any net price to pay at all?

Dear Lynn,

As I have been preparing my children (a junior and a senior) for a second round of the ACT, I have noticed something interesting about the people around us who have already taken the ACT, Almost universally, people who do very well on the ACT the first time around, with no preparation, are those who have played a musical instrument for years and are very adept at reading music. My theory of why this seems to help is that when you read and play music, your brain has to process information very quickly. That is a skill that is very useful for the ACT, Many students know the material, but they are just too slow at answering the questions. Therefore, they do not finish the test and have to guess on a lot of questions. So, they have lower scores. One major characteristic of the ACT is that you have to be very fast. If parents have children who are musically inclined or have been taking music, they should encourage their children to continue. It will help them with math, with the ACT, and with fast, accurate thinking, which will help them in the future. I wish my children were interested in music, but they are not. So, they will have to work extra hard and practice speed reading. They are both very intelligent; they just don't shine on the ACT.

Hi Linda,

That is a fascinating observation you made about musically inclined students and their ability to do well on the ACT. It is true that you have to be a fast reader to do well on the ACT. That is why I didn't have my son bother with this test because he is a slow reader.

It is very frustrating that a timed test is used when you certainly don't have to be a fast reader to do well in college.

Lynn O'Shaughnessy

Lynn. I'm wondering which website you used to generated the first report for Helen. Is it Collegeboard? Also did you add comments in the last colum

Hi – I didn't generate this list. It came from a mom named Lynne. She used the net price calculators of each school to determine the cost. She added the comments in the last column.

Lynn O'Shaughnessy

I was interested if this family also calculated the probablity of getting in the various schools, parchment.com has a good site for doing this. My daughter has similar scores and I find her chances of getting here are better than average, except at IVys her chances are very low

Good question, Mike. We have figured that her stats are good enough to make her a contender pretty much anywhere – for the most competitive colleges, it's just a matter of how well she can present herself and how well her profile fits into the class they are crafting. We expect her SAT scores will match the SAT subject scores , which were pretty good. Additionally, with the exception of Harvard and Yale, with their amazing need-based aid, the most selective colleges won't be offering anything like the aid we can get from less selective institutions. I understand that with the ivies EVERYONE has a low chance of admission…

Lynn, I've enjoyed your blog and just finished reading The College Solution, which I consider to be the most sensible and helpful books I've read yet (and I've read many!). I have one quick question for you. I know you mentioned in your book that a family business with less than 100 full-time employees doesn't have to divulge its net worth. Conversely, will disclosing my company's debt play favorably in the application process? My company is an S-corp so the loan in the business (approximately $5.3 million) flows directly to me, not to mention the fact that I've used all assets I own as collateral for the loan. I've asked my accountant but he is uncertain of any benefit or even where to look (which is unusual, as I believe his business situation is similar to mine and he just sent his daughter to college this year). Anyway, any help you could give–either direct advice or the name of a specialized expert in this area–would be very appreciated. Thank you very much. And please keep up your wonderful, insightful work . . . your advice and counsel is a Godsend to us new-to-the-college-game parents!

Hi Nancy,

It's my understanding that no debt is considered by financial aid methodology. Certainly consumer debt is not. Someone who would absolutely know the answer is Paula Bishop, who is a CPA in Bellevue, WA, who specializes in college financial aid. I've referred many people to her and she's who I go to when I have questions. Here is the link to her site: http://www.paulabishop.com/

Good luck.

Lynn O'Shaughnessy

I was under the impression that the Net Price calculators gave an estimate, not to be counted on, amount of potential aid. Also, these calculators are different, are they not, with some asking for more detail than others? Can these net prices really be relied on? Thank you.

Since the student is a resident of WA she is eligible for the WUE program. With an ACT of 33 or an SAT of 2140 she would get $15,000 a year in merit money at Montana State which is about 3/4 tuition. Also, MSU has an Honors Program, a strong chem major and she could also apply for the Presidential Scholarship.

She should take a look at Pepperdine. My daughter, who will be a freshman, has similar stats to the student mentioned in this article and received a Regents' Scholarship, worth $28,000 per year. That doesn't exactly make it cheap, but it would then fall in the top third of her spreadsheet, and I think that her daughter would find Pepperdine academically challenging.
She should also apply for outside scholarships. The more than $20,000 that mine received went a long way toward putting the cost of Pepperdine within our reach.

Thanks for the suggestion Laura! Congrats on that scholarship money!

Lynn O'Shaughnessy

Laura,

Is the Regents' Scholarship a four-year scholarship, and if so, what requirements does your daughter have to fulfill to receive it in subsequent years? Thanks.

Is the last column the source of the calculator? if so, almost all the schools at the bottom of the list would be CSS schools?

Hi Michelle,

What are "CSS schools"? Thanks.

Sharon

Sharon — CSS schools is short for CSS/Financial Aid PROFILE, which is a financial aid form that 249 schools (nearly all private) use in addition to the FAFSA.

And Michelle, yes the last column indicates the calculator source. The schools on the bottom of the list all use the net price calculators that the College Board provided for those schools.

Lynn O'Shaughnessy

Hi Lynn,

I've enjoyed reading your blog the last few months.

The parents are in their mid-fifties, without a lot of retirement savings and with one more child to put through school. I think they should pick one of the schools which has a net price no higher than the teens or low twenties. I would also pick a school relatively close to Washington state to minimize travel costs. Perhaps Helen can earn a couple thousand dollars each summer and maybe a thousand or so during the school year to bring down her bill. Also, I think she should try to pick a major in a field where she has a reasonable expectation of getting a job. There's no sense having to pay back student loans for the privilege of learning. Helen can learn on her own for free if she's bright enough.

Sincerely,

Sharon Pichai