Boosting a Teen's Chances of Admission (And Money)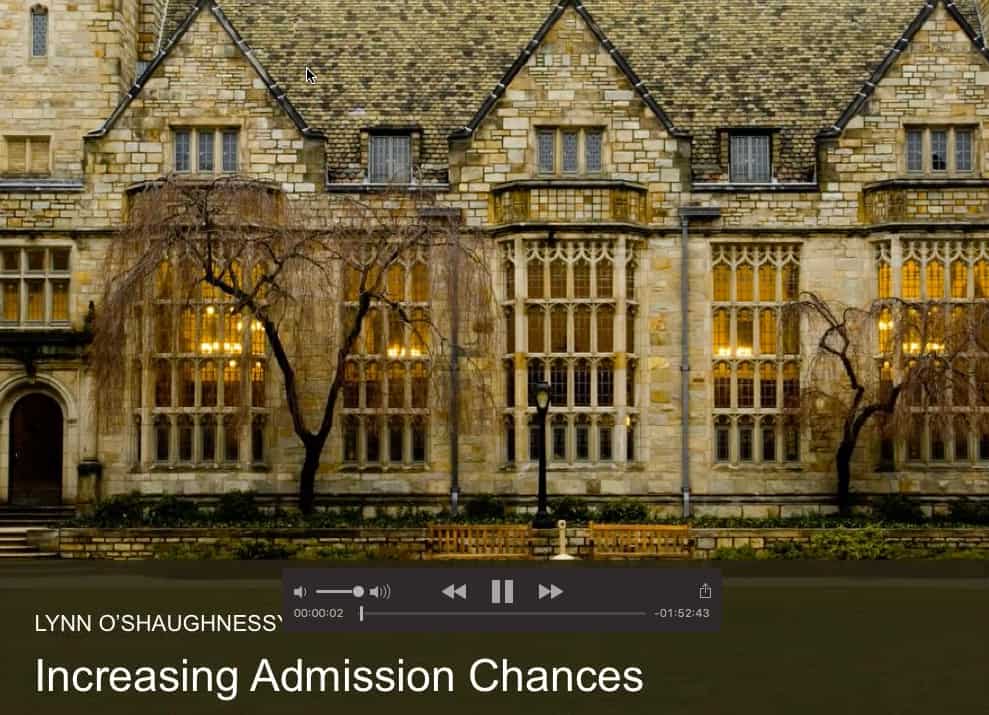 The screenshot above is of a webinar that I recorded for the winter 2017 class where I  discussed ways to boost your child's chances of admission that may also lead to better aid packages or merit awards.
You can watch this webinar by clicking on this link:  Increasing Admission Chances
(To watch the entire recording, you MUST download it onto your computer or it will freeze.)
There are other ways besides grades and test scores that can make a school, especially those that evaluate applicants holistically, open its wallet a bit wider. They include:
Looking for academic matches.
Applying to test-optional schools if standardized test scores are low.
Looking for talent/academic major scholarships offered by schools that require separate applications.
Applying to schools in other time zones. Schools love to brag about their geographic diversity.
Seeking out schools – and especially colleges rather than research universities – that aren't on the coasts or in cities.
For elite schools, being in the top 10% of the applicant's class.
Applying early decision or early action.
Showing "demonstrated interest" in a school.
Resisting being a stealth candidate.
Simply being who you are – gender and ethnicity can make a difference.
Being from a wealthy family.
A College Essay Advantage
Writing an excellent college essay can also help with admission chances. Below I have shared with you an interview I conducted with Janine Robinson, a expert on college essays and the creator of Essay Hell, which is a phenomenal website to visit before your child starts writing his or her essays.
Here is the link:  How to Write a Great College Essay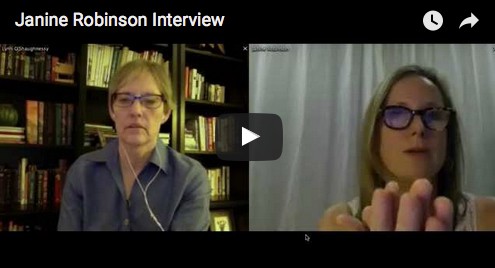 Admission Factor Considerations
Most students are not academic superstars. Some have a great GPA and underwhelming test scores. For others it's reversed. And there are also plenty of students who simply have average stats.
The vast majority of students end up attending non-selective state universities within their borders. And if that's where your child is heading, then having an uneven academic record often won't matter. These regional public schools (I'm not talking about the most prominent public flagship universities) will often be the cheapest option regardless of an applicant's academic profile.
Private colleges are the most likely to evaluate students holistically, in part, because they have the luxury to do so. Admission counselors can become acquainted with an applicant who is a surfer from Santa Barbara, who speaks Farsi, and plays chess competitively.
In contrast, universities, which typically receive far more applications, are more likely to weigh a child's statistics – grades, test scores, and class rank – most heavily because it is too time consuming to evaluate students in a deeper fashion. These schools can use cut-offs – minimum grades and test scores – that admission offices require before applicants are given a serious look.
Read More….
More on Wealthy Student Advantages
College in Need Closes Door on Needy Students This is The New York Times article that I referenced in the webinar.
Another Look at Merit Scholarships Why colleges give merit scholarships to wealthy students.
Colleges Spend More on Rich Students, Less on Poor
More on Test-Optional Practices
The Other Side of Test-Optional This is the article I wrote for The New York Times that I mentioned in the video.
Colleges and Universities That are Test-Optional Overview of test-optional schools.
Test Optional isn't for Aspiring Athletes Why students looking for an athletic scholarships will need test scores even at test-optional schools.
More on Demonstrated Interest Advantage
Why You Shouldn't Be a Stealth College Applicant It's a bad idea to be a stealth candidate at schools that consider demonstrated interest.
More on Admission Advantages
The Three Biggest College Lies Forbes
University Reveals the Secrets of Winning College Scholarships I wrote a post after interviewing U. of Rochester admission dean
More on Throwing-a-Wider-Net Advantage
What Happens to People Who Go To Colleges No One Has Ever Heard Of?
A Recruiter's Take On Hiring Students From No-Name Schools
Do You Really Need an Ivy League Education?
More on Affirmative Action
A Better Affirmative Action: State Universities That Created Alternatives to Racial Preferences This is an in-depth report from the Century Foundation that examines how public universities in nine states created alternatives to racial affirmative action. The states in the report are Arizona, California, Georgia, Florida, Michigan, Nebraska, New Hampshire, Texas and Washington.
Making Colleges More Diverse Even Without Affirmative Action This article from The Atlantic takes a look at what is happening in California to increase minority representation at the University of California
Hi Collette,

What I would suggest is that he check to see who is the admission rep for your state or area. If you go to the the admission section of a college's website, you can find the list of admission reps, with their email addresses. He can email the correct person and inquire if they offer interviews. If they do, it's recommended that he have one. Rep typically visit their region in the fall and sometimes the spring. If in-person opportunity isn't possible, they often are offered via Skype as well.

One way you can see if a school cares about interviews or a student's level of demonstrated interest is to check out the admission factors on a school's profile on COLLEGEdata.com. You will see 19 admission factors listed and level of interest and interview are two of the line items. I talk about using COLLEGEdata in the video.

Reaching out to the appropriate admission rep is a good idea because this is the first person to review the application and he/she can push for your son if he makes a good impression.

Lynn O'Shaughnessy

Hi Lynn,

Where is the best place to research if your student is in the top 10% of the incoming freshman cohort (to see if s/he might gain an advantage in a higher financial aid award? I'm not sure how to calculate that (College Board, other websites?).

Many thanks,
Stacey

Hi Stacey,

What schools care about is whether your child is in the top 10% of his high school class. You'll have to determine whether your child is in the top 10% by contacting the high school. If your son's high school doesn't rank, an elite college will compare your child with other students applying from the same school or use other ways to assess if he is in the top 10% such as the Common Application counselor form that asks the counselor to compare your child's academic profile to others in the senior class.

To see how many freshmen are in the 10% of a school, head to the College Board and click on a school's Applying link. And then click on the Academics & GPA link.

Also, please keep in mind that class rank is not important for most schools, but they are for the most elite.

Lynn O'Shaughnessy

Essay Hell looks interesting. Do you recommend any similar programs in San Diego area or recommend the drive to Laguna over anyone in SD?

Hi Trina,

You don'think that you'd need to travel up to Orange County. Janine Robinson works with students in different parts of the country. I do think Janine and Essay Hell are great.

Lynn O.

Hi Lynn – What do you know about Pacific Lutheran University in Tacoma? I feel like it's an under-the-radar school but in a city, which may be a win-win for my daughter (she wants to move to the "big city", we don't want to pay full sticker price, and don't qualify for need-based aid.) We like the fact that they actually WAIVE a full year for students who receive an IB Diploma, which my daughter is planning to do. In addition, I was extremely impressed with their admissions counselor, who really gave the impression that it's a school who sees their kids as more than just a number.

Hi Susan,

I am a huge fan of under-the-radar schools and I think Pacific Lutheran would fit that description. Schools without the name recognition are going to be more affordable and this school has the benefit of being in a metro area. The average yearly merit scholarship at Pacific Lutheran is $17,660, which is a nice amount.

I can't vouch for this school any more than any others, but I always tell families to do their homework. Visit the school, talk with students about what they like and don't like, talk to teachers. Read what you can on the school's website and its relevant academic departments.

Good luck!

Lynn O.