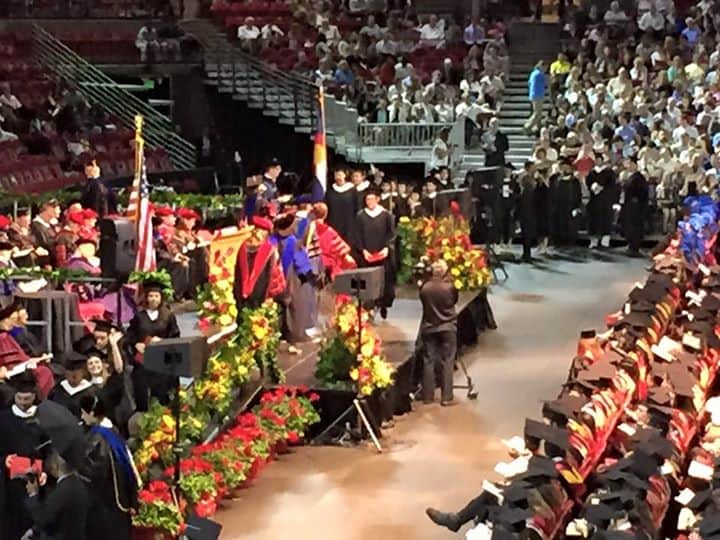 Over the weekend, my son graduated from college again.
A year ago, Ben left Beloit College with his bachelor's degree in mathematics and a minor in studio art.
On Friday, my 22-year-old son received his master's degree in education from the University of Denver.
Denver Teacher Residency
After graduating from Beloit, Ben was only home in San Diego for 10 days before he moved to Denver to start his year with the Denver Teacher Residency program.
The residency program is a joint effort of the University of Denver and the Denver Public School system to educate new teachers for hard to fill positions including special education and secondary math and science in the district.
For Ben, the last 12 months represented the hardest stretch of his young life. He needed to rely heavily upon the skills that he honed at his liberal arts college, including critical thinking, analyzing, writing and public speaking, to make it through the year.
Compared to any other professions, Ben said he concluded that teachers have to make more instant decisions during the workday than the vast majority of professions. He deals with these kinds of questions all day long…
Should I keep going with the lesson or slow down? How will I group students so they work together? What question can I ask to show that the students understand what I'm saying? Does a student's behavior merit a consequence versus warning?
Ben's undergrad years didn't prepare him, however, for the exhaustion that he often felt during the school week when his day started at 5:30 a.m..
At Lincoln High School, Ben worked with a mentor mathematics teacher who gradually gave him more time in front of her classes. Ultimately, he was spending most of his time teaching during the second semester and he often was working on lesson plans in the evening.
Through the residency program, Ben also frequently turned to a mentor outside the classroom who served as a calm sounding board for all the issues that Ben was facing.
Going to school himself
During this year, Ben was also working on his master's degree, which required going to classes at DU on many weekends and one evening a week. He looked forward to Thursdays at DU when he spent the entire day in class.
"Who would have thought that eight hours of grad school classes on Thursdays would be considered a break?" Ben asked. But getting away from the high school and meeting with his peers who were teaching in urban schools and comparing notes kept him going.
Ben told me this weekend that he was extremely happy that he went through the Denver Teacher Residency program. "I think the program creates effective first-year teachers."
"If it's easy," he added, "it's not worth doing."
Teacher residency programs
If your child is interested in teaching, and in particular STEM subjects, I would recommend taking a look at residency programs.
Here is a post that I wrote last year about teacher residency programs:
I've included links to some of the residency programs. Ben had applied or was planning to apply to the first five that I listed below before he got accepted into the Denver program.
Math for America (Berkeley, Boston, Los Angeles, New York City, Utah, Washington DC)
Aspire Teacher Residency (Oakland, CA)
Match Education (Boston and Chicago)
Woodrow Wilson Teaching Fellowship in Ohio (Also underwrites programs in Georgia, New Jersey, Indiana and Michigan.)
Math and Science Teacher Residency (New York City)
Urban Teacher Residency United This umbrella group will connect you to many residency programs including Atlanta, Memphis, Philadelphia, Milwaukee, Richmond, Seattle and Chattanooga.
Starting His New Life
Ben's first choice was the Denver program because he wanted to live in Colorado. Ben visited Colorado many times growing up because his dad is a Denver native.
Ben now has a couple of months off before he starts his new job as a high school math teacher at P.R.E.P Academy, an alternative school in the Denver school district.
Throughout his residency program, Ben remained committed to becoming a teacher. "I can't imagine doing anything else," he told me recently.
I am very proud of Ben and I hope he remains dedicated to teaching the kind of students who need him the most.
Hi Donna,

Actually, my son's bachelor's degree at Beloit (minus merit money) cost no more than a degree at the University of California. In fact, it was probably a little bit less. And, while many students at the UCs do not graduate in four years, this was never a possibility for my son.

Also, studies have shown that students with liberal arts degrees, while they can have lower salaries when they first graduate from college, catch up and actually surpass students with vocational degrees such as business, nursing etc. later in their careers.

And the education you receive at a liberal arts college will often be richer and far more personalized that you can get a state school where undergraduates are the third wheel.

Here's a post that describes the drawback at state research universities:
https://www.thecollegesolution.com/research-universities-a-dirty-little-secret/

Lynn O'Shaughnessy

Congrats, Ben! Great information regarding residency programs. I will pass the information to my niece, who is interested in teaching STEM subjects.

Thanks Sheri. I am glad the article might help someone else who is interested in becoming a STEM teacher!

Lynn O'Shaughnessy

Congratulations to your son and to you too, Lynn! Your son's schedule reminded me of my time at grad school, as I did a 16 month program in San Diego which met weeknights and Saturdays while I worked full time as a social worker with children and familiies who were at risk of having their children removed. Ben will be so relieved this part of his life is over, and hopefully the future will not be quite as stressful.

Hi Christina,

You can definitely relate to what Ben went through. He was so exhausted in the evening that he was usually asleep by 9:30 p.m. That was quite a change for my son who is normally a night owl. I suspect you would agree from your own experience that the grueling schedule was definitely worth it!

Lynn O'Shaughnessy

Congratulations to your son, Lynn!