Are These Financial Aid Letters Misleading?
If you didn't see my college blog post from yesterday, I'd urge you to take a peek. I wrote about misleading financial aid awards, which can cause parents to think that a school is going to be more affordable than it really is.
Here is the post:
Today I want to offer three more examples that I'm pulling from a National College Advocacy Group webinar that my friend Paula Bishop, a CPA and financial aid expert in Bellevue, WA,  conducted.
University of Portland
The first letter that I'm sharing comes from the University of Portland in Oregon.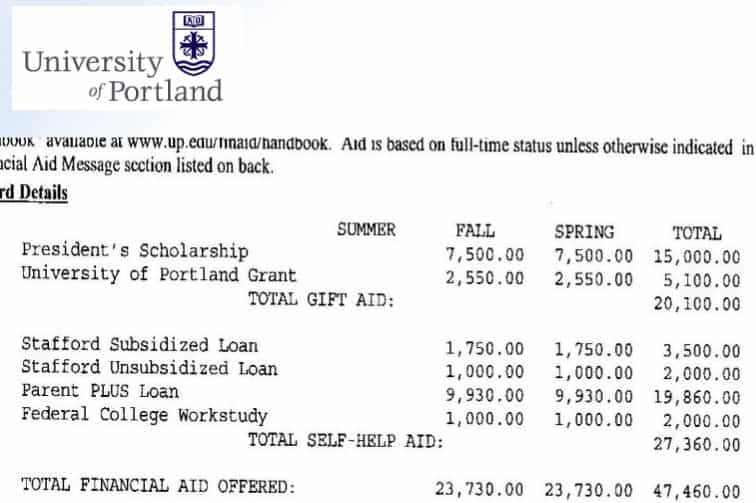 Just like the award letter from George Washington University that I showed you yesterday, the University of Portland unfortunately included non-need-based-aid loans in its financial aid package.  The only loan that should be in this package is the subsidized Stafford, but not the Parent PLUS and unsubsidized Stafford (Yesterday's college blog post explains why.)

When you eliminate the those two loans, the aid package drops from $47,460 to $25,600. The family's Expected Family Contribution is $16,638, which is the figure, generated by the financial aid formula, that is supposed to represent what the family should be able to afford to pay for one year at this Catholic university. The school's cost of attendance (COA) is $47,460.
When Bishop crunched the numbers, this is what she discovered:

 So is the Portland offer a good award? Obviously, parents would prefer an award that meets 100% of student's needs, but only the most elite schools can offer that. When I looked on the College Board to see what the average University of Portland award contained, I discovered that the school's typical award meets 74% of a student's need so this package is better than average for this school.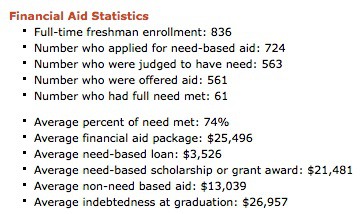 Fordham University
The next award letter came from Fordham University and was sent to a prospective transfer student. Considering that one in three students transfer to another school, I thought it was it important to share this one.
The Fordham letter was stunning in what it failed to include. Can you figure out what's missing?
What Fordham Missed
Fordham failed to include room and board charges. Transfer students, Bishop explained, don't live on campus but clearly an estimate of what it costs to live in New York was needed! The cost could be staggering.   Fordham low balled this young woman, who ended up not attending this Catholic school.

Columbia University
My last example comes from Columbia University. What do you think about this award letter?
Columbia Gets an "A"
This is actually an award letter that gets it right. The award letter helpfully breaks down the cost of attendance. It also includes what the parental and student contribution will be based on the financial aid formula. Finally Columbia provides how it will address the family's need.  Beyond the clarity, Columbia meets 100% of the family's need, which only the wealthiest schools can pull off.
 Bottom Line:
It's important to be able to fully understand what a college is proposing when you receive a financial aid award letter. If the document is confusing, call the school's financial aid office and stay on the line until you understand. Too much is at stake to just guess.
Order a copy of the new edition of The College Solution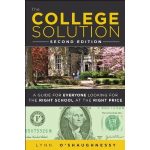 You can now pre-order the second edition of The College Solution: A Guide for Everyone Looking for the Right School at the Right Price. The second edition contains about 90% new content including chapters on evaluating schools financially and academically.