Are the Professors Any Good?
Have you ever taken a look at RateMyProfessors.com?
I'm assuming that you haven't. It never occurred to me to head to the extremely popular site when my two kids were checking out colleges, but it might be worth a look.
At RateMyProfessors, you'll find more than 13 million student comments and ratings of professors at colleges and universities across the country. Over four million college students from the U.S. Canada and United Kingdom use RateMyProfessors every month.
I'll admit that this website might sound like a nightmare to wade into, but there is a way to make using this tool friendlier.
RateMyProfessor allows you to look at the rankings of individual professors as well as a composite teaching rating for a school.
While there is a debate about the validity of this measurement of teacher quality, The Center for College Affordability and Productivity, a higher-ed think tank, believes in the validity of RateMyProfessors enough to use the scores as a factor in the college rankings it produces annually for Forbes Magazine. RateMyProfessor ratings is one of the tools that the center uses to measure the quality of a institution's teaching.
Measuring Teaching Quality
Unfortunately, assessing a school's teaching quality is currently nearly impossible to do. Schools love to evaluate professors based on their research output  – the number of papers professors write and publish. Unfortunately, there has been depressingly little interest in measuring whether a professor is any good at, say, teaching organic chemistry or Shakespeare to a room of 20-year-olds. And schools have shown no interest in sharing that kind of valuable information – even if they do gather it – with prospective students and parents.
I view RateMyProfessors as a way to get some sense of how valued teaching is at an institution. You can turn to the site to get an overall rating for a school. The "overall quality" ratings for each professor at a college or university are added up and the institution is given a composite score on a five-point scale.
Mediocre Ivy League Scores
I am sharing four scores that I looked up to give me an excuse to mention one of my pet peeves.
It bugs me that families assume that the Ivy League institutions are the best schools for undergrads. If you want to be on the same campus with brilliant researchers, the Ivy League schools are a great destination, but these vaunted professors are not going to be teaching undergrads. In fact many superstar researchers are dreadful teachers.
Here are composite RateMyProfessors scores of two Ivy League schools that illustrate that the teaching — as opposed to research — can be pretty mediocre: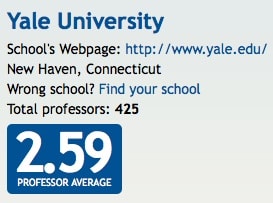 High College Scores
In general, you should find better teaching at colleges — as opposed to research universities – because the focus is on teaching undergrads and faculty research is a secondary priority. I'm sharing the overall scores of two colleges – Amherst College and Harvey Mudd College – to provide examples of schools with excellent overall ratings.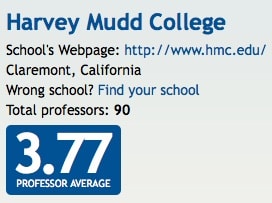 Checking Professor Scores
You might be wondering how accurate a professor's rating is. As an experiment, I looked at the ratings for two teachers at my son's school (Beloit College). I checked the professor rating of Ben's favorite professor and one that he liked personally, but thought did a poor job in the classroom. The ratings for each of them were in the range that I expected.
The top rating that a professor can get is a 5 — extremely rare. Here is Ben's favorite teacher:

I'm not going to share the results for the teacher that has given Ben fits, but the professor received an overall quality ranking of 2.4.
Bottom Line:
RateMyProfessors.com is an imperfect measure of a school's teaching quality, but until there are better measures — and there are rumblings of change in this regard – it  can be a useful tool.
The College Solution
You can now pre-order the second edition of The College Solution: A Guide for Everyone Looking for the Right School at the Right Price. The second edition contains about 90% new content including chapters on evaluating schools academically.
Lynn O'Shaughnessy
That site wasn't around when I was in college, but when I went back to grad school a few years ago, I found myself checking in on the profs on the site to see what I'd gotten myself into. I found the most truthful results are the ones closest to the average score for the professor (many especially negative results seemed to result from one bad experience).

I looked at the ratings for my spouse and they are probably pretty accurate. He is appreciated by those that want to learn and unappreciated by those that just want an easy A.

It's interesting how low the school scores are for the Ivys that I looked at. Thank you for pointing out another way to judge a school.

Interesting tool. I'll have to look in to that. Great insight on the difference between colleges and research-oriented universities. I went to a private college and I got excellent attention from all of my professors. For undergrad, I think it's important to get this kind of attention. Pot-grad is different for many reasons – not the least of which is cost! Many jobs offer subsidies for advanced degrees, so I wouldn't feel so badly about slightly less attention from my professors if I am not paying as much for it!

What are your thoughts on number of adjunct profs? Is it included in these numbers?

Interesting tool. I'll have to look in to that. Great insight on the difference between colleges and research-oriented universities. I went to a private college and I got excellent attention from all of my professors. For undergrad, I think it's important to get this kind of attention. Pot-grad is different for many reasons – not the least of which is cost! Many jobs offer subsidies for advanced degrees, so I wouldn't feel so badly about slightly less attention from my professors if I am not paying as much for it!

What are your thoughts on number of adjunct profs? Is it included in these numbers?

Hi ImpulseSave,

I agree with you that colleges are generally a better way to go for undergrads for a lot of reasons including the ones you mention. Both of my children have attended colleges.

Thanks for visiting my blog.

Lynn O'Shaughnessy