If your child is a "B" student, you may have more options than you might assume.
Don't believe me?
Here is a story of a young woman – I'll call her Katie – whose mom is a friend of mine.
Katie attended a private high school in California where she earned a 3.0 GPA.
She applied to these four private schools and was accepted into all of them:
California Lutheran University
Dominican University (CA)
Linfield College (OR)
Pacific Lutheran University (WA)
When she received her acceptances, she received these annual merit awards:
California Lutheran $9,100
Dominican University $11,150
Linfield College $13,770
Pacific Lutheran U. $10,678
Katie's first choice was Cal Lutheran, but it offered her the lowest award.  Katie's mom contacted Cal Lutheran and mentioned that the school was her No. 1 choice, but money was an issue and other schools offered better awards. Cal Lutheran asked the mom to fax the other award letters and the school added an additional $3,500 to the yearly award. That brought the first-year award to $12,600 and the total award to $50,400.
You might assume that a student with a 3.0 GPA wouldn't generate any merit scholarship, much less have success in receiving a higher award. But that is wrong.
The admission directors at most schools are petrified that they won't meet their annual admission goals. And it's getting harder to do so.
Every year, Inside Higher Ed, a respected online newspaper, sponsors a Gallup Poll of senior admission officers on a variety of issues and the biggest revelation of the most recent survey was the number of schools that didn't meet their enrollment targets during the 2014-2015 admission season. By May 1, 2014, which is the traditional day when applicants are supposed to make their freshman deposits, 60% of the public and private schools that were polled still had vacancies.
In fact, some schools acknowledged a practice that has always been considered taboo. Some administrators admitted that they were contacting students after the May 1 deposit day in hopes of enticing students who had committed to other schools to change their minds.
Being Strategic When Looking for Schools
If your child is a B student – and most teenagers are – you should look for colleges strategically when you are seeking to cut costs. Whether you are exploring state or private schools, here are some things to consider:
Look for Talent/Major Scholarships
While students are automatically in the running for need-based and merit aid when they apply, families typically aren't aware that many schools offer separate in-house scholarships for students with particular talents and who want to major in specific academic disciplines. These could be an especially valuable opportunity for students' with lower grade point averages and test scores who usually won't qualify for the best merit awards.
When students apply to a school, they usually are automatically in consideration for the institution's general merit awards, but schools may require separate applications for their other scholarships. These in-house scholarships that can require extra work are often easier to get than the private outside scholarships that so many students pursue.
Check a school's website for these additional scholarships that can be awarded to students for such things as leadership, volunteering, artistic abilities, writing talent, entrepreneurship, and other talents that aren't connected to grades. You can also find scholarships based on academic degrees.
An easy way to look for these extra scholarships is to head to the website of Cappex, which annually updates the merit scholarships each school offers.  I discuss how to search for institutional scholarships in the Private Scholarship lesson in the Sources of College Money module. You should also check school websites for scholarships.
State Universities
Regional State Schools
If you don't want to pay full price for college, the most prominent flagships will probably be the least promising option. (Flagship is a term that describes the premiere public research university in each state.) These schools are very popular and typically reward students with the highest grade point averages and test scores in their states.
For students looking at public options, regional state universities will often have easier admission standards and lower sticker prices than the best-known public universities. For "B" students the qualifications for capturing merit scholarships can be significantly lower.
Scholarships at all public universities will focus heavily, if not exclusively, on academic statistics – grades, test scores and class rank. State flagships and schools that started as agriculture schools (the latter usually has "State" in their title such as Michigan State and Kansas State) that want to inch up in the college rankings, including the University of Arizona, Arizona State, University of Oklahoma, University of Alabama, University of Minnesota, Texas A&M, University of South Carolina, University of Florida, and Auburn provide excellent scholarships to students with stellar academic records and standardized scores.) The academic requirements for scholarships will typically be lower at regional universities than at the best-known public universities.
Finding regional schools will take more effort, but the payoff can be well worth it since there are hidden regional jewels scattered across the country. Some of these schools can offer better educational opportunities than their highly ranked flagship peers and can be more focused on undergraduates which is definitely not the top institutional priority of the best-known research universities. The No. 1 priority of intense research universities such at UCLA, North Carolina-Chapel Hill, U. of Michigan, and U. of Illinois-Urbana-Champaign is professor research. Graduate students are the second priority of research universities and undergrads come in third.
Regional University Suggestions
Many SUNY campuses in New York fit into the category of regional state universities. The SUNYs are attractively priced for nonresidents and represent wonderful values for New Yorkers. (New York state doesn't have a flagship university, but these three share the honors of the most research intensive SUNYs: University at Albany, Binghamton, and Stony Brook.) Some promising SUNYs include these campuses:
New Palz
Geneseo
Oswego
Fredonia
Purchase
Buffalo
Fashion Institute of Technology (FIT)
Each school offers its own specialties. Fredonia, for instance, is well known for its music programs, Purchase is celebrated for its performing and creative arts programs and FIT specializes in design, fashion and business.
The prices are lower for New Yorkers, as well as nonresidents, because the state of New York provides a greater percentage of support for its public universities (around 40%) than most states. The acceptance rates for some of these schools are in the 45% to 55% range, but keep in mind that nonresidents who apply to state schools can enjoy an admission edge because they will ultimately pay more – even with intuitional scholarships – than residents to attend these schools. State schools have a large appetite for nonresident applicants to make up for inadequate support from their state governments.
A Regional University Suggestion
One of my favorite regional institutions is Western Washington University, which is a beautiful campus in Bellingham. (See photo.) 
A family friend of mine from Southern California is thriving at this school, which is perhaps best known for its highly regarded honors college. Gwen finished high school with a 3.0 GPA and gained admittance into Western Washington. She was nowhere close to qualifying for the school's honors college as a freshman, but she applied and gained admission into it as a sophomore because of her first-year grades.
The honors classes for freshmen and sophomores average around 25 students and the honors seminars for upper classmen generally range from 11 to 15 students. Those are the kind of intimate class sizes that you normally associate with private colleges!
Whether or not your child is a "B" student, it makes sense to find out the qualifications for honors colleges at state universities. State universities created honors colleges as a way to compete for smart students who might normally attend private colleges and universities. According to the National Collegiate Honors Council, 60% of honors colleges were created since 1994.
I'd love to hear from you about state honors colleges that you like. One that I recommend checking out is Wilkes Honors College at Florida Atlantic University, which is a liberal arts college that has its own campus and a separate curriculum that emphasizes rigor and interdisciplinary learning.
Sampling of Non-flagship Public Universities
North
Townson University (MD)
Rowan University (NJ)
Montclair State University (NJ)
University of Massachusetts-Dartmouth
West Chester U. of Pennsylvania (PA)
South
George Mason U. (VA)
James Madison University (VA)
The Citadel (SC)
Georgia College & State University
Murray State University (KY)
University of Tennessee-Chattanooga
University of Texas at Dallas
West
California Polytechnic State U., San Luis Obispo
Sonoma State University CA)
New Mexico Institute of Mining and Technology
Evergreen State College (WA)
University of Colorado-Denver
Boise State University (ID)
 Midwest
Miami University-Oxford (OH)
Ohio University
University of Wisconsin-La Crosse
University of Northern Illinois
Wichita State University
Central Michigan University
University of Cincinnati
Public Liberal Arts Colleges
Other public institutions that fit into the regional category are state liberal arts colleges that include some promising finds. The difficulty of getting into these schools will vary, but many of them welcome B students.
Schools in this category include:
University of Minnesota Morris (all nonresidents pay in-state tuition!)
SUNY College at Geneseo (NY)
St. Mary's College Maryland (entire school is an honors college!)
New College of Florida
Ramapo College of New Jersey
Massachusetts College of Liberal Arts
University of North Carolina-Asheville
Truman State University (MO)
University of Mary Washington (VA)
Southern Oregon University
Southern Utah University
University of Virginia College at Wise
You can find the list of all these institutions by visiting the website of the Council on Public Liberal Arts Colleges.
Flagship Universities
Flagships that aren't on most families' radar can also be an attractive source of scholarship money, particularly for nonresidents. While a "B" student would have a hard (or more likely an impossible) time getting into a highly ranked flagships such as the University of Michigan, University of California-Berkeley, University of Virginia, they can get into lesser- known flagships and sometimes pocket merit scholarships.
The acceptance rates among flagships are dramatically different with those enjoying the highest rankings, naturally being the most exclusive.
Sampling of Flagship Acceptance Rates 
University of Massachusetts 63%
University of New Mexico 65%
University of Tennessee 67%
University of Maine 78%
University of Hawaii 81%
University of Utah 83%
University of Kansas 92%
University of Montana 96%
Acceptance Rates at Highly Ranked State Universities
UCLA 22%
University of California-Berkeley 18%
University of North Carolina, Chapel Hill 28%
University of Virginia 30%
College of William and Mary 32%
University of Michigan 41%
Some lesser-known flagships are aggressively pursuing students outside their states with scholarship packages and their sticker prices are much lower than the rankings darlings.  These other flagships are seeking outsiders for a variety of reasons. A major preoccupation of schools is to increase their U.S. News' rankings. In states with declining high school student population, universities need to look beyond their borders to fill their seats. And administrators would love for their schools to be more geographically diverse.
University of New Mexico in Albuquerque is one of the flagships that is aggressively pursuing outsiders, including those with B averages. The average UNM freshman earned a 3.24 GPA and had a SAT score of 1084 (math/reading). As you can see from the screenshot below, nonresidents with a 3.0 GPA and an ACT or 26 or an SAT of 1190, can qualify for a $16,138-a-year merit scholarship.
Private Colleges and Universities
If your child's GPA isn't as strong as you'd like, you could also consider focusing on schools that use a holistic admission process. At schools that take a longer look at a child, the GPA will be important, but other factors will also be weighed such as a student's coursework, extracurricular activities, gender, state of origin, demonstrated interest in the school, recommendations, and interview.
Private schools, and in particular, private colleges are more likely to embrace this admission approach. Since colleges don't have the visibility that the most prominent universities enjoy, colleges have to work harder to attract students and that often means providing better awards for students with lower academic profiles.
Boston College (it's a university despite its name) doesn't have to give a merit scholarship to a child with a 3.0 GPA because it enjoys a well-regarded brand name, it's located in an Eastern city (big draw for applicants), and for those reasons it attracts a surplus of students clamoring to get in. In fact, Boston College only gives merit aid to about 1% of its students. In contrast, schools like Juniata College (my daughter's alma mater), which is located in a remote part of central Pennsylvania, Hendrix College in Conway, AR and Carroll College in Billings, MT, give money to either 100% of freshmen or close to it.
And this high percentage of merit aid is not unusual. In the 2014 survey from the National Association of College and University Business Officer, 89% of private colleges and universities gave tuition discounts to its incoming freshmen. Schools need to reduce their prices to compete with public universities, as well as their private peers.
 In the chart below from the National Association for College and University Business Officers, you can see that small institutions (typically colleges) offer nearly 95% of students discounts. In contrast, research universities, which are the brand-name darlings, offer the lowest percentage of its students' tuition discounts.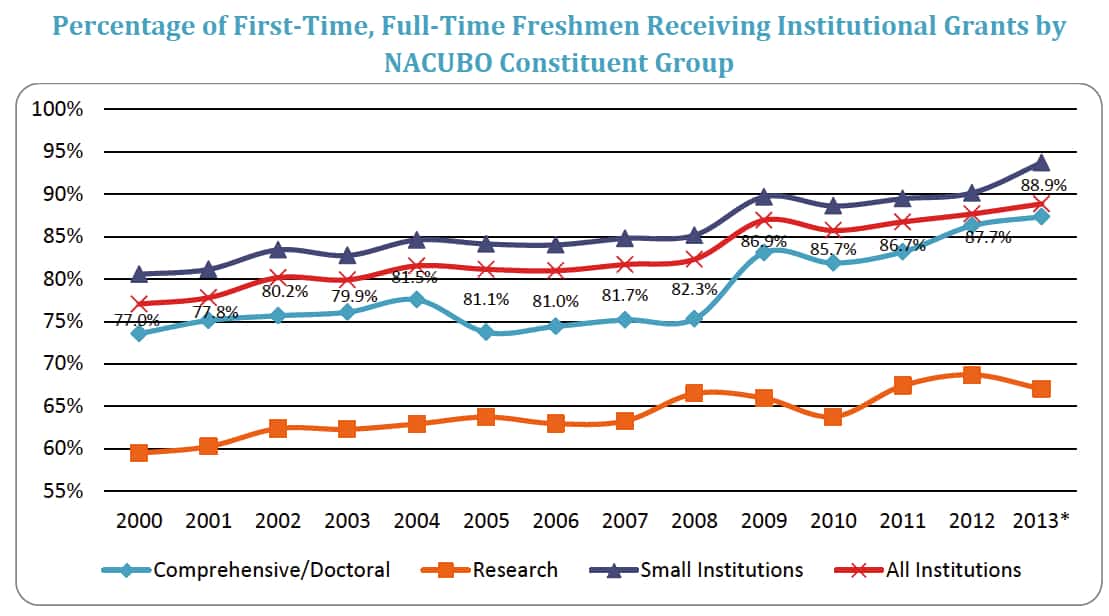 When "B" students are looking for private schools that will offer discounts, they will have better luck finding affordable schools that are not located in cities and, in particular on the coasts. Due to their location, schools in metropolitan areas can be more selective and stingier than schools in less desirable areas. Whether or not your child is a "B" student, you should watch the video – Boosting a Teen's Chances of Admission  (And Money).
You'll find a lot more advice about cutting the price at private colleges and universities elsewhere in this class.
Graduation Rates
One thing you have to pay attention to when looking at state and private schools for any students are graduation rates. Parents want their children to graduate in four years, but most don't. The four-year grad rate for full-time students is 31% for state schools and 53% for private schools.
The most elite schools, where "B" students are unlikely to be, will enjoy the best graduation rates for a number of reasons. The students attending these schools are more likely to have the academic wherewithal to graduate in four years. They also tend to be wealthier so they won't have to drop out for lack of money and elite schools typically provide their students with access to classes and bountiful resources to get them to the finish line in four years.
A handy resource for graduation rates is College Completion, which is a microsite of The Chronicle of Higher Education.
The graduation rates statistics, which come from the federal government, only look at full-time freshmen who end up graduating from their original school. The federal government counts students who transfer as students who never graduated from their original institution.
It's important to ask schools how students can graduate in four years and why so many don't. Also ask what kind of student does graduate in four years. When talking to reps of some state schools with lower grad rates they have often told me that nonresident students graduate on time in much higher percentages.
Community College Option
I have encountered many parents, who are curious about sending their children to community colleges.  Many of these parents haven't saved enough money for four-year institutions, but they also wonder why they should sacrifice financially when their children, who weren't stellar students, could take the same general-ed classes they'd get at a public university with fewer students and for less money.
The knock against community colleges is that they've always been the Bermuda Triangle of higher education. Most students who enroll get lost in the system and never emerge with a degree. Motivated students, however, can do well at community colleges.
 One reason why so many students are not successful in transferring to four-year colleges is because they get placed in remedial classes for no credit. Consequently, if your children plan to attend community colleges, they should absolutely study for the English and math placement tests. Studying a subject like geometry that your child might have taken back in freshman year in high school can help avoid remedial math.