A New Way to Search for College Scholarships
It's private college scholarship season.
If your child hopes to obtain a private college scholarship, now is the time to apply.
There are two main windows for private scholarships – now and in October and November. The deadline for many current scholarships is at the end of April or in May. Many students, particularly soon-to-be college freshmen wait until the summer, but few scholarships have deadlines during that period.
Today I want to share with you an exciting new tool to find college scholarships. It's called ScholarPRO.

ScholarPRO works differently from other scholarship search engines. For starters, it's not really a search engine. It's more of a matchmaking service.
ScholarPRO will never show you any scholarships that you aren't eligible to win. That's a big improvement over other sites that can make you wade through college scholarships that aren't appropriate. For instance, you might want to major in biology, but the scholarship site gives you leads for awards that require you to live in a particular state or attend a specific university.
As I mentioned in my college blog post over at CBSMoneyWatch yesterday, ScholarPRO also provides a handy home base to complete your scholarship applications:

What I also like about ScholarPRO is that it doesn't sell names or email addresses to third parties and it doesn't accept any ads.
I was so impressed by ScholarPRO that I signed up my nephew Matt over the weekend. The site costs $30 a year and its free for low-income students. Matt, who is a high school senior, had been diligently applying for private scholarships and getting frustrated by his search.
If you're interested in private scholarships, I'd urge you to read a post that I wrote in January about the realities of private scholarships as a source of free college money:
One of my pet peeves is that many families assume that private scholarships is the biggest source of college money, but it isn't.
Only about 7% of college students win private college scholarship and the average award is just $2,500. These scholarships are often just good for one year. A wide variety of groups sponsor private scholarships such as the Rotary and Kiwanis clubs, foundations and businesses.
Most students will have better luck finding money from the federal and state governments and the colleges themselves. But looking for private scholarships can be a worthwhile exercise, particularly, if you're financial aid package comes up short.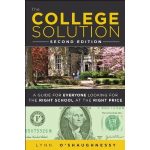 Lynn O'Shaughnessy is the author of the upcoming second edition of The College Solution: A Guide for Everyone Looking for the Right School at the Right Price. 
Read More on The College Solution:
An Email from a Disillusioned Mom
Beware of Preferential Packaging
What's Missing From This Financial Aid Letter?
An End to Bad Financial Aid Awards