A Cautionary Tale: Looking for Money
When money is an issue, students need to be strategic about where they apply to college.
I am sharing a story of a young man from Los Angeles that illustrates why the common practice of applying to a bunch of schools without considering whether aid is a realistic option is a dangerous strategy.
The teenager, who wants to major in journalism, was super excited when he got into his dream school – Syracuse University in upstate New York. (See photo above.) His parents, on the other hand, were stressing.
Getting Stiffed by Syracuse
The affluent family's expected family contribution was roughly $30,000. The EFC is what a family would be expected to pay, at a minimum, for one year at Syracuse or any other school.
Since tuition and room/board at this research university costs more than $54,000 and books, travel, and incidentals will boost that price, that would leave room for Syracuse to give this student some need-based financial aid or more likely a merit award. But the teen got nothing. When I heard this, I asked about the teen's academic profile and the mom said he had about a 3.4 GPA.
I'd suggest that the student's academic profile could at least partially explain why he was stiffed. Most schools give their best awards to the students who will help them move up in the US News & World Report rankings. At this school, a student with a 3.4 GPA isn't going to do that.
When I checked the average grade point averages of Syracuse's incoming freshman at the College Board, it showed that 65% of the students had GPAs of 3.5 or higher. A 3.4 GPA isn't special at this particular school.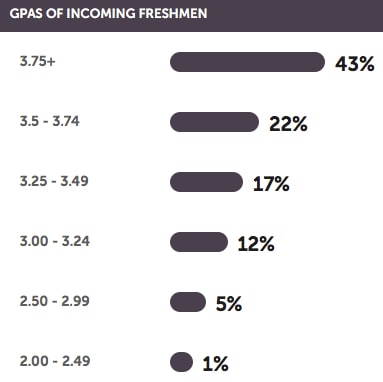 How Many Students Receive Grants
I then checked with the federal College Navigator, which is a handy site to look at a variety of statistics on individual schools that the U.S. Department of Education maintains.
Looking at Syracuse's statistics on College Navigator, I saw that 67% of students at Syracuse receive institutional grants from the school. Consequently, it's not surprising that a child that was close to the bottom third of the class would receive nothing even though he was eligible for need-based aid.
Syracuse University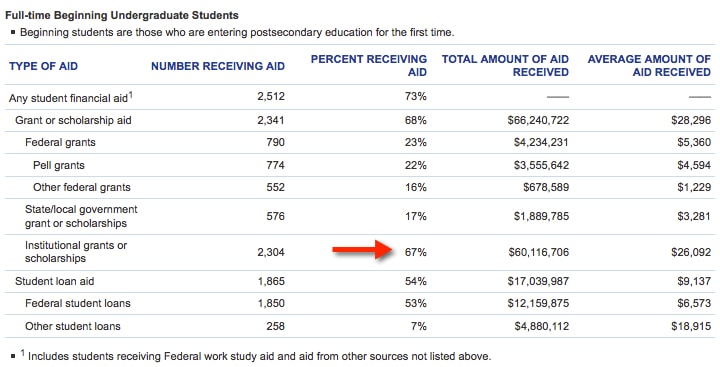 Schools That Have to Try Hard
The vast majority of private institutions award a much greater percentage of their students with institutional grants and scholarships than Syracuse. This is a topic that I discuss more in the next lesson and in the resource guide, The Ultimate College List Builder.
There are plenty of institutions where every student or nearly everyone receives something. Here is just a tiny sampling of the hundreds of schools that offer at least 95% of their students awards:
Bellarmine University (KY)
Centre College (KY)
College of Wooster (OH)
Depauw University (IN)
Hendrix College (AR)
Juniata College (my daughter's alma mater in PA)
Knox College (IL)
Lawrence University (WI)
St. Benedict (MN)
University of Dallas (TX)
University of Redlands (CA)
University of Scranton (PA)
Valparaiso University (IN)
Xavier University (OH)
A critical factor in whether a school will award most or all of its students grants is how hard it has to work to attract their freshman class.
Schools that aren't recognizable to the average college-bound teenagers and their parents will have to offer more applicants awards and often have to offer better merit scholarships.  Most master's-level universities, which U.S. News classifies as regional universities, and private colleges fall into that must-try-harder category.
Schools That Don't Have to Try As Hard
In contrast, research-intensive universities are the least likely to offer price cuts to a majority of their students. These universities, which support many doctoral programs, actually represent a surprisingly small category of schools that include state public flagships and private institutions of which the Ivies are the most prominent.
This small cadre of schools benefit from simple supply and demand. The demand for many of these brand-name schools far outstrip their supply so the institutions can make students, who do not qualify for need-based financial aid, pay full price.
Prestigious research universities can also limit their institutional awards because of their rankings, their locations, or their sports teams. Here's a rule of thumb: if most people would recognize the name of a private university on a sweatshirt, it's more likely to give out puny merit awards or none at all. While few parents and students know much about the academic offerings at Syracuse University, they probably are aware that the school has a very competitive basketball team that is often a March Madness player.
To illustrate what I'm talking about, here are some of the well-known universities that occupy some of the top 50 spots in U.S. News' beauty contest that are located in largely desirable areas where awards tend to be even rarer. When looking at this list, keep in mind that at the typical private institution only 13% of students pay full price. The percentages in the following list show how many students pay full price at each school:
Boston College (despite it's name, it's a university) 56%
Boston University 47%
Brandeis University 43%
Carnegie Mellon University (PA) 46%
Duke University (NC) 51%
Johns Hopkins University (MD) 53%
Lehigh University (PA) 49%
Northwestern University (IL) 46%
Tufts University (MA) 64%
University of Notre Dame 42%
University of Southern California 39%
Wake Forest University (NC) 52%
George Washington University (DC) 36%
Affluent families who won't qualify for financial aid will usually encounter the most difficulty cutting the price of college at research universities with high rankings. And Ivy League schools don't provide any merit scholarships.
An Alternative Strategy
If the teenager from Los Angeles had widened his net and looked for schools beyond highly ranked research universities like Syracuse he would have cut his college costs. For instance, he could have applied to another school in upstate New York – Ithaca College – that offers its own well-respected journalism program.
Ithaca gives institutional grants to 92% of students. U.S. News puts Ithaca College in its regional university category, which does not get much media attention. 

Ithaca College Coming Up Short at State Universities
The teenager from Los Angeles also didn't capture money at any of the other schools that he applied to, which were state institutions.
This student didn't qualify for aid because the family didn't target schools where he had a realistic chance of getting any.
First, the student didn't qualify for any need-based aid at the state schools in California that were on his list, but that wasn't unusual because his family did not qualify for the Cal Grant, which is the state's major need-based aid program. In California, merit aid at state universities is miniscule.
The other schools on the teenager's list were out-of-state public universities including Indiana University and the University of Oregon.
Many state flagships will give highly talented out-of-state students scholarships with top GPA's and standardized test scores, but the most elite of these state institutions are primarily focused on charging very high tuition to nonresidents to bring in needed dollars.
The teen's GPA and presumably his SAT scores weren't high enough to receive a price break from these two popular state universities, which like other state institutions, primarily evaluate students based on their academic stats. Among state institutions, the most rigorous competition for money is going to be at the flagships, which represent each state's premier public research university.
You will learn more about awards given by state schools by reading the lessons entitled, Advice for the B Student and State Universities and Merit Aid.
It's not easy to be shut out of award money by every school on a teen's list, but it does happen. Ironically, most private schools would have given this teenager a price break. The mom told me that she and her husband had enough saved to pay for one year of Syracuse. They aren't sure what to do after that.
I feel for them.
Thank you! Your course has already saved us valuable dollars for college,

Thank you Vicky! I am so glad to hear that and thanks for sharing!

When things have settled down and you know where your daughter will be attending school, I'd love to get an endorsement from you!

Lynn O.

Great! Thanks Vicky!

Lynn O.

My daughter applied and has been accepted to several schools in the Colleges that Change Lives -40 schools book. The scholarship offers vary and are still coming in. Some schools like Juniata and Knox offered the most. Willamette offered the least. Willamette and Knox are current favorites.. Is it acceptable to tell schools about offers from schools in another area of the country? i.e. smaller remote college towns like Knox compared to Willamette which is in a medium size town and about 40 minutes from Portland, Oregon? Or should you compare a Lewis and Clark and University of Puget Sound to Willamette?

If her choice is Willamette can you bring the mid-west and east coast offers into the mix to see if her first choice could do a bit better or meet us in the middle? Or is that unreasonable?

Hi Vicky,

Congratulations on your daughter's offers! You can definitely use the offers of the other schools in an attempt to get Wilamette to increase its award. These are all liberal arts colleges and their location shouldn't matter. Whether your daughter can get more money will depend on how much the school would like your daughter to attend and also – very importantly – on how its freshmen numbers look for the fall. In other words, how many students have already accepted a position there. A school that is running behind in its acceptances will be more likely to kick in more money.

Good luck!

Lynn O.