A 53% Discount Off a College Sticker Price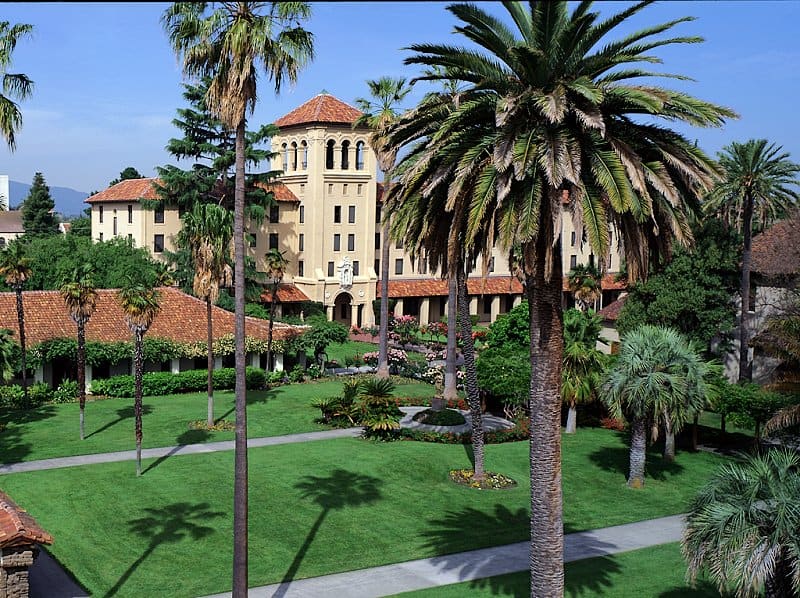 Many parents assume that college is a seller's market, but except for the elite schools that are perched at the top of US News & World Report's college rankings, this belief is laughable.
Schools are so eager to attract freshmen to their campuses that they are now discounting their tuition at historically high levels. That's the conclusion from the latest annual study released this week by the National Association of College and University Business Officers.
Private schools are currently offering typical scholarships/grants that cover 53% of tuition and fees. Schools have never offered such high discounts. In 2011, schools discounted their tuition by an average of 51.7%.
Where nearly everyone gets a merit scholarship
As I've mentioned many times, these discounts are hardly reserved for just the stellar students. The report noted that 86.9% of freshmen attending private colleges and universities received some type of price cut via scholarships/grants. Schools need to cut their prices to compete with state universities with lower sticker prices and also to remain competitive with their private school peers.
The schools that accept more than 50% of their applicants tend to have a higher percentage of students receiving price breaks. Colleges and universities that reject the greatest percentage of students tend to have the largest average sticker prices and average net prices.
You can see from the chart below that small institutions, defined by this study as having a student body of 4,000 or lower, are doling out the greatest percentage of students discounts.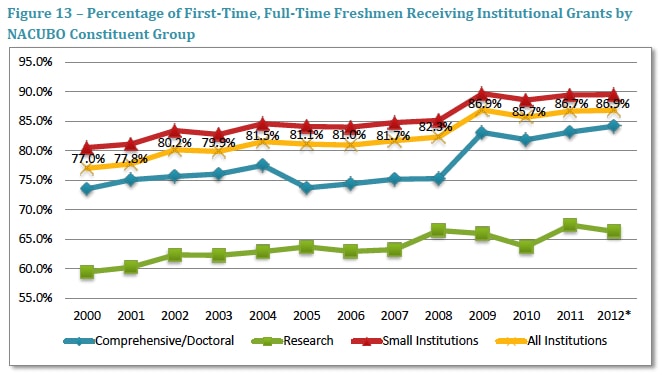 In general, the popularity of a school is linked closely to how much an institution discounts. Despite the price cutting, small schools experienced more difficulty attracting enough freshmen.  Schools cited "price sensitivity" as the No. 1 reason for declining or flat enrollment. Changing demographics was the second specific reason cited for enrollment challenges.
Discounting for All Undergrads
When you look at the discounts for all undergrads, the discounts decline and so do the percentage of students receiving them. When students receive a fixed grant for their freshman year, it's value will erode each year. Also many schools require students to maintain a certain GPA to keep their scholarships.
Discounting by Region
It should be no surprise that the schools that offered the smallest price breaks at located on the East and West Coasts. I highlighted the lowest discount rates in pale blue. (These particular discount rates were calculated as a percentage of a school's overall revenue.)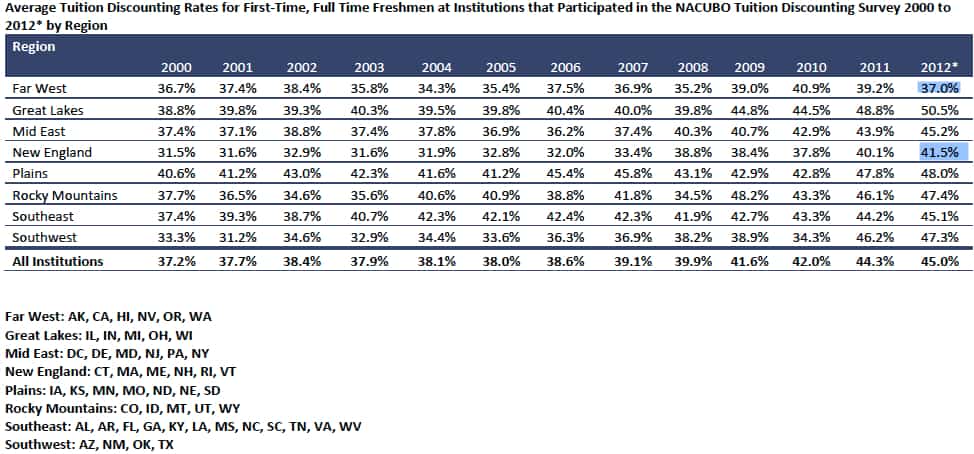 The lower discount rate on the West Coast supports what I've noticed out here in California. With such notable exceptions as Stanford, Occidental and the Claremont colleges (Pomona, Harvey Mudd, Scripps, Claremont McKenna and Pitzer), and Occidental, the private schools in California are typically stingy. Some stunningly so.
If you will need substantial financial aid to attend a private school in California, but you aren't smart enough or lucky enough to get into those seven schools, I'd consider not even looking in this state. I'm serious. Here's just one especially egregious example of what I'm talking about courtesy of the federal College Navigator which publishes net prices for thousands of schools.
Gouging the Poor at Santa Clara University
Guess how much Santa Clara University, which is situated in Silicon Valley, charges the poorest of the poor? For a family making less than $30,000 a year, this school in 2010 charged $46,347!!!  As someone who grew up in a family where Jesuits were revered, I find the pricing policy of this Catholic university inexplicable and beyond REVOLTING.
Bottom Line:
At the vast majority of private schools, your child will win a scholarship just for showing up.
How valuable the scholarship will be will depend on the desirability of the applicant, as well as the desirability of the school itself. A college located 100 miles from the nearest Costco or Starbucks is going to have to come up with a juicy offer to attract students than a hot school like Santa Clara that's located 11 minutes from Apple's headquarter and 16 minutes from Google's.
It's up to you whether you will be a bargain shopper or not, but you've been warned.
Congratulations Annette. Your son definitely beat the odds!

Lynn O'Shaughnessy

It's not inconceivable that a two college professor household could have an EFC that exceeds $50,000. That's simply based on each of them having an adjusted gross income of $100k. Are they well off? Sure. Are they rich? I think that would not be a stretch based on worldwide income distribution. It certainly would be though in the United States where the real median family income is over $60,000. The term "rich," by definition implies abundance. I'm not sure that's a fair characterization of the financial status of two teachers. In the end, it's a matter of prospective. There must be a better word than "rich" for families that have EFCs of $50k and higher. It seems too broad, too judgmental, too inflammatory.

M

Lynn – Although I am done with this process I am still addicted to your column. Here is our experience. Last year Redlands ( my alma mater) actually offered a great package to my elder daughter with lots of grant aid that more than met need. Loans were below many other schools. Scripps (where my daughter end end up) met need with minimal loans – but no merit money. So, it ended up being a bit more costly than Redlands. This year my younger daughter is off to Whitman and got a great package with merit money on top of need grants – bringing it under the cost of a UC for us. So your comments about finding a place that wants your child enough to offer merit money rings true as the way to get costs down.

Lynn,

The data you included is definitely in keeping with the 59% discount on tuition & fees my daughter received at a small Great Lakes area school and the 52% discount offered by her second choice. And here I thought she was special …

Hi Lynn,
Just making sure I understand correctly, With such notable exceptions as Stanford, Occidental and the Claremont colleges (Pomona, Harvey Mudd, Scripps, Claremont McKenna and Pitzer), and Occidental, the private schools in California are typically stingy.

You are saying that these colleges are NOT stingy with the financial aid? It seems like it would be the opposite since they are so desirable to so many kids.

Hi Janet,

These schools are generous with need-based financial aid, but many of the students who attend these schools are rich. And these schools provide little to no merit scholarships.

Lynn O'Shaughnessy

So what do you do if you want to go to a Claremont College and are mid to upper middle class? We've told our daughter we will pay for the equivalent of a state college education (we are in TX) and anything else is up to her. We've also told not to get loans. She's working very hard in high school and would probably be awarded merit scholarships elsewhere. This has been a question that's been turning in my mind for a while. I guess I hate to admit defeat, but our EFC at Pomona was incredibly high – about 60% of our annual take home pay. Do schools like this have a population made up of low-income and wealthy students with no in-between?

Hi Janet,

These schools are generous with need-based financial aid, but many of the students who attend these schools are rich. And these schools provide little to no merit scholarships.

Lynn O'Shaughnessy

All the more reason not to insist on ivy league for those who can't afford it! I was at a dinner party last night and one of the parents talked about her son's plans to go to community college after he graduates. If he chooses the right major, and keeps a certain minimum grade average, he's guaranteed transfer into the UC system after he graduates the community college (I'm in California). I thought that was a wonderful, sensible strategy.

Lynn,

Do you know how much the numbers are skewed for the far west by including California?

Thanks,

John

This is an extremely risky business practice for schools that cannot retain their freshman or sophomore classes. If you have to keep discounting you run the danger of getting less revenue from the students you get to replace the students you lost. Not to mention that you fail to build up an alumni base that can support the college and the students over the long term.

Hi Doug,

University of Redlands is more generous than most private schools in California. According to its figures on the College Board, it meets 89% of aid. Twenty five percent of the aid, however, is the form of loans and work study.

Here is the College Board's link: https://bigfuture.collegeboard.org/college-university-search/university-of-redlands?q=University%2Bof%2BRedlands&tp=bf&searchType=site_qfs&bf_cat=college

Looking at College Navigator, the price of Redlands for the 2010 school year, which is the latest that the feds have, was $16,802 for families making $30,000 or less.

In comparison, the price for that same family at Pomona College would have been $3,405.

Lynn O'Shaughnessy

Lynn,

Not all private California schools are stingy. University of Redlands (a small private school in Southern CA) offered my son a 53% discount on tuition. They wanted his attendance and were very attentive during the admissions process.

He decided on a state school, but we were impressed with Redlands professionalism and willingness to compete on price.

Thank you for the excellent posts!