If you (or your child) is a rising senior, now is a good time to get started on the dreaded college essay.
If you're  applying to a Common Application school – and there are now nearly 500 colleges and universities that use this form – you will have six college essay choices.
If it's any consolation, schools don't want a long essay.  Before the 2011 college admission season began, the Common Application decreed that essays could not exceed  500 words.
Some students and counselors squawked, but I think the word-count ceiling is a good thing. Frankly, most teenagers don't know how to write a compelling admission essay that's short, much less one that is 750 or 1,000 words or more. I admit that I have no statistics to back this up, but I have read many college essay drafts and most of them have ranged from horrible to is this really the best you can do?
College Essay Topics
The six essays topics  on the Common Application remain the same as last year's. Here they are:

Schools that Use the Common App
If you're wondering if schools on your list use the Common Application, here is a list of the organization's members.
College Essay Advice
Need inspiration? Here are six terrific sample college essays from students who attend Connecticut College. The admission staff liked the essays so much that they posted them on the liberal arts college's website:  Essays That Work
You can find more great essays at Johns Hopkins University's website.
….And here is great essay advice from a senior assistant dean at the University of Virginia:
Writing the Essay: Sound Advice from an Expert
Still More College Essay Advice
Here are some previous posts that I wrote about college essays:
11 Things to Know About the Common Application
Can a Guinea Pig Be in a College Essay?
10 Great Opening Lines from Stanford Admissions Essays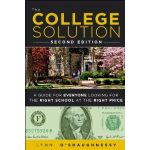 Lynn O'Shaughnessy is the author of the second edition of The College Solution, which was released in May. It contains more advice on college essays.

My son wrote his essay while working last summer and it improved the quality of his senior year so much. Something like 10 drafts on his own before we did a final proofing. That's like having one more class during the school year, when he also unexpectedly had to pick up a semester credit in PE through his outrigger club. The essay was much better for having been a summer project. When he watched his friends flipping out in October he was so happy he'd listened to us (and his senior friends who graduated the year before).

USA Today did a great piece on 5 top college essay blunders. I'm going to add some of my own: One mistake I see kids making is trying to cram everything they know/want/think into one essay. An entire life experience – whether you an octogenarian or a teen – can't really be fit into 250-500 words. An essay is not a résumé, after all. Rather, one thought, one quirk, one person or book who moved you in a unique way gives you a better opportunity to explore – and explain – your thinking. Zelda Fitgerald once wrote that what she missed most about her father after he died was the particular way he tented his fingers when he spoke. That single detail brought all of her emotions – loss, love, the power of memory – to light. What is the one detail or anecdote that can become the focal point for your essay? It is worth taking the time to think about that before you write. For more thoughts, go to collegeessayexpert.org

Thanks Emily. Excellent tips on writing a great college essay.

Lynn O'Shaughnessy

USA Today did a great piece on 5 top college essay blunders. I'm going to add some of my own: One mistake I see kids making is trying to cram everything they know/want/think into one essay. An entire life experience – whether you an octogenarian or a teen – can't really be fit into 250-500 words. An essay is not a résumé, after all. Rather, one thought, one quirk, one person or book who moved you in a unique way gives you a better opportunity to explore – and explain – your thinking. Zelda Fitgerald once wrote that what she missed most about her father after he died was the particular way he tented his fingers when he spoke. That single detail brought all of her emotions – loss, love, the power of memory – to light. What is the one detail or anecdote that can become the focal point for your essay? It is worth taking the time to think about that before you write. For more thoughts, go to collegeessayexpert.org

Thanks Emily. Excellent tips on writing a great college essay.

Lynn O'Shaughnessy