37 Liberal Arts Colleges In or Near Cities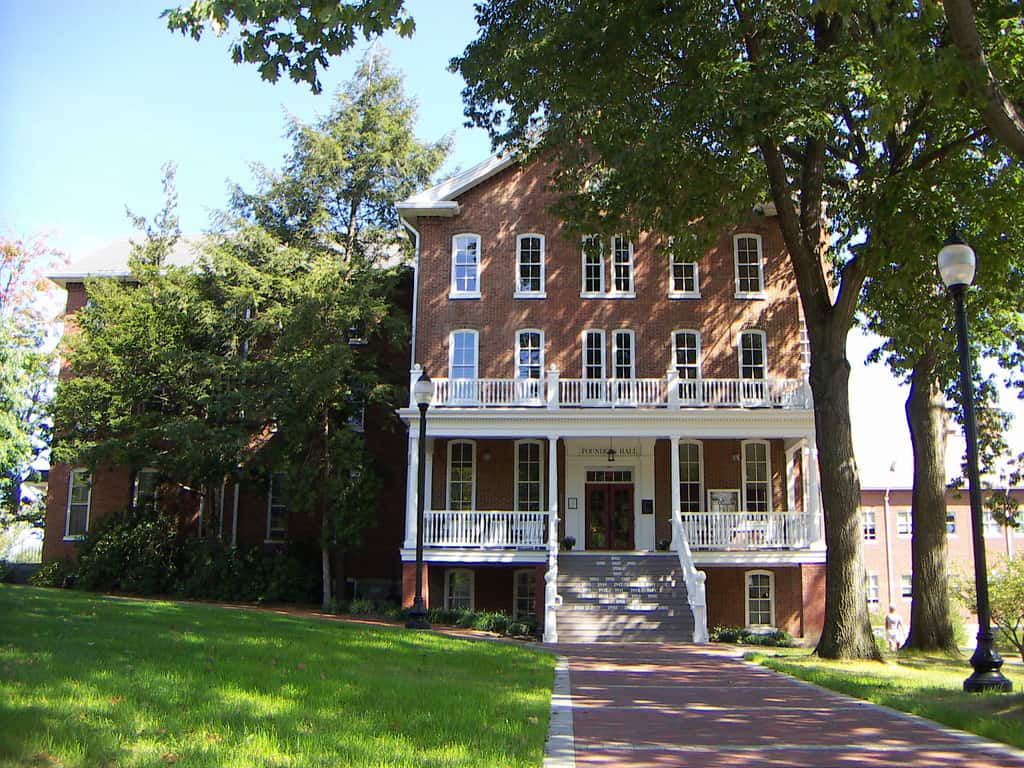 I wrote this post on Friday, but since then I've gotten some more suggestions to add to the list of liberal arts colleges in or near cities including Trinity University in San Antonio, TX.  A Trinity alum provided some fascinating history about schools that technically should no longer be considered liberal arts colleges, such as the University of Richmond, but keep the designation anyway.
Fascinating stuff!
Lynn O'Shaughnessy
Many students want to attend schools in or near big cities.
It's particularly a challenge, however, to find liberal arts colleges that are located in urban areas. I periodically get questions from students and parents asking for the names of liberal arts that aren't located in the sticks.
My daughter Caitlin attended one of these remote schools. She graduated two years ago from Juniata College, in Huntingdon, PA, which is a great school, but it's a pain to get to.
The summer before her senior year, my son and I visited Caitlin in Huntingdon and had a lovely time. We picked blueberries, bought awesome produce at the amazing farmer's market, poked around at resale shops, hiked in the mountains and soaked up the scenery on the patio as the sun set.  After reluctantly saying good bye, it took my son Ben and I 13 hours to get back home to San Diego.
During the plane ride back, I compiled a list of liberal arts colleges that are in cities or are only a short distance from a metropolitan area. I was really surprised at how few liberal arts colleges are in cities in the Midwest. What's with that? I have added a few schools on the list since then.
I'm sure that I must have missed some schools so if you see a liberal arts college that should be on this list, please let me know.
33 Liberal Arts Colleges In or Near Cities
East Coast
Barnard College, New York City
Bryn Mawr College, Bryn Mawr, PA, near Philadelphia
Drew University, Madison, NJ, near New York City
Goucher College, Towson, MD, a Baltimore suburb
Haverford College, near Philadelphia
Sarah Lawrence College, Bronxville, NY, near New York City
Simmons College, Boston
Swarthmore College, Smarthmore, PA, near Philadelphia
Trinity College, Hartford, CT
Wheaton College, Norton, MA, near Providence, RI
Midwest
Lake Forest College, Chicago suburb
Macalester College, St. Paul
South
Birmingham-Southern College, Birmingham, AL
Eckerd College, St. Petersburg, FL
Fisk University, Nashville
Morehouse College, Atlanta
Oglethorpe University, Atlanta
Millsaps College, Jackson, MS
Rhodes College, Memphis, TN
University of Richmond, Richmond, VA
Southwest
West
Colorado College, Colorado Springs, CO
Lewis & Clark College, Portland, OR
Mills College, Oakland, CA
Occidental College, Los Angeles
Reed College, Portland, OR
St. John's College, Santa Fe, NM
St. Mary's College of California, Moraga, CA (San Francisco Bay)
University of Puget Sound, Tacoma, WA
Whittier College, Whittier, CA. Los Angeles suburb
Westminster College, Salt Lake City, UT
Westmont College, Santa Barbara CA (Not a large city, but awfully fun.)
These five Claremont (CA) colleges are on the outskirts of the Los Angeles metro area:
Claremont McKenna College
Harvey Mudd College
Pitzer College College
Pomona College
Scripps College
Union College in Schenectady NY, established in1795 – one of the oldest colleges in the United States (second oldest in the state of New York, after Columbia) and has an illustrious history. It is a small liberal arts college of about 2200 students and is It is about a 20 minute drive from Albany, but Schenectady is a city in its own right. It is a liberal arts college and in addition offers an undergraduate engineering program. My son attended Union and feels he received an excellent education. Although Schenectady has seen its economic ups and downs, Union College has been a solid presence in the city's history.

You need to add University of Redlands in Redlands, CA…small city 80,000. About one hour from LA…also has additional campuses close to LA. Amazing school that is often overlooked.

Reed College is known for being one of the most liberal liberal arts schools there are! Located on the outer edge of Portland, Oregon.

Hi Michaela,

You are right about Reed College, which is an excellent institution. If you look at the list again, you'll see that I already had the school on the list.

Lynn O'Shaughnessy

Wellesley College (MA) should be on this list – it's proximity to Cambridge/Boston was a major factor for me. Close enough to take advantage of other schools, to have internships and to socialize. Fifteen miles away and Wellesley runs buses frequently.

Shimer College is a very small liberal arts college with a Great Books core curriculum. Shimer is located in the heart of Chicago just south of the Loop and across the highway from the Sox stadium.

Hi!
I just wanted to note that Lawrence University, a highly ranked liberal arts college in Wisconsin is located in the small city of Appleton. Appleton has 72,000 people, plus it's the de facto capital of the Fox Cities area, a much larger metropolitan area. More significantly, Lawrence is right downtown, giving it a very in-the-city feel.

Thanks!

Awesome list, I will definitely be checking out these while searching through colleges. Thanks for sharing!

I grew up in Norton, MA, home of Wheaton College, and its inclusion on this list makes me LOL. It's true that it is not that far from Providence. It sure felt like the middle of nowhere.

The College of New Jersey (TCNJ) 37 mi from Philly and 60 mi from NYC and close to train stations on the Northeast Corridor that serve both cities is a competitive public liberal arts school that is not as ridiculously priced as most schools on the list. Also features highly successful D III sports programs for both women and men.

Donna, I was thinking about Willamette, but Salem doesn't strike me as a metropolitan area. It's a wonderful school though. My only complaint about Willamette is that it requires students (who don't arrive with enough language classes) to take FOUR language courses. That was a nonstarter for my child and for the son of a friend of mine.

Lynn O'Shaughnessy

Agnes Scott College in Atlanta

University of St. Thomas is in St. Paul, just down the street from Macalester; as is Hamline University, St. Catherine University, Gustavus, Concordia, and Bethel. And across the river in Minneapolis is Augsburg.

I am a graduate of Trinity University, and Carnegie classification aside, it is very much a liberal arts college (LAC), much in the way the University of Richmond is (and similar schools). Richmond offers masters and professional degrees, but petitioned Carnegie for US News ranking purposes to be classified as a liberal arts college. http://news.richmond.edu/releases/archives/dec04/Carnegie.html

Trinity's reference institutions are LACs, as are the schools with which it is aligned athletically (Colorado and Austin Colleges, and Southwestern University, for example). Trinity has not petitioned for a change in order to maintain its higher ranking in the Masters category.

The Inside Higher Ed article below discusses how other LACs, which used to be classified as baccalaureates (Wesleyan, Bryn Mawr, Smith, and numerous others who previously received exemptions to their classification), were reclassified as Masters schools because of their graduate and professional programs (like Trinity's) and how Miidlebury argued its graduate programs took place off-site to avoid a similar fate. Many of those same schools have
re-petitioned to maintain baccalaureate status, yet offer professional and graduate degrees in far higher numbers and proportions than Trinity (Washington and Lee is another).
http://www.insidehighered.com/news/2006/02/27/carnegie

To say Trinity is not an LAC deprives prospective students the opportunity to search for a school with the criteria you listed. Trinity IS a liberal arts college in the middle of the seventh-largest US city.

Thanks Trinity U Alum. I agree that Trinity deserves a spot on this list.

It seems that the liberal arts college category isn't as precise as you might assume. Thank you for sending the link to the article on Inside Higher Ed that discusses how some schools have kept their liberal arts designation even as they have added some graduate programs.

I also got an email from my friend Michelle Kretzschmar of Do It Yourself College Rankings, a former, long-time Texasn, who also argued that Trinity should be on the libearl arts college list. And she adds a few more suggestions below. Lynn O'Shaughnessy

From Michelle:

As for the LACs, I know Trinity isn't listed as an LAC, it has an general engineering program, Masters in Accounting, Health Administration, some education programs that students do in five years for teacher certification. However, if you are looking for a LAC, you should consider Trinity, we did. We went there for multiple visits and Ethan took lessons from one of the Trinity baseball coaches. Nobody in Texas thinks about it as a masters level program, most who have heard of it probably don't realize it has master level programs. For all intents and purposes, it's an LAC with some extra programs despite its Carnegie Classification. But by that definition, it's not a LAC.

Other schools to add are Millsaps in Jackson, Mississippi, Birmingham Southern in Birmingham, Alabama, Oglethorpe University in Atlanta, and I believe that Davidson is in the suburbs of Charlotte.

I see the link for the inside higher Ed article is the wrong one. I will resend; you can delete that comment and this one to post the correct link with the comment

I am a graduate of Trinity University, and Carnegie classification aside, it is very much a liberal arts college (LAC), much in the way the University of Richmond is (and similar schools). Richmond offers masters and professional degrees, but petitioned Carnegie for US News ranking purposes to be classified as a liberal arts college. http://news.richmond.edu/releases/archives/dec04/Carnegie.html

Trinity's reference institutions are LACs, as are the schools with which it is aligned athletically (Colorado and Austin Colleges, and Southwestern University, for example). Trinity has not petitioned for a change in order to maintain its higher ranking in the Masters category.

The Inside Higher Ed article below discusses how other LACs, which used to be classified as baccalaureates (Wesleyan, Bryn Mawr, Smith, and numerous others who previously received exemptions to their classification), were reclassified as Masters schools because of their graduate and professional programs (like Trinity's) and how Miidlebury argued its graduate programs took place off-site to avoid a similar fate. Many of those same schools have
re-petitioned to maintain baccalaureate status, yet offer professional and graduate degrees in far higher numbers and proportions than Trinity (Washington and Lee is another).
http://news.richmond.edu/releases/archives/dec04/Carnegie.html

To say Trinity is not an LAC deprives prospective students the opportunity to search for a school with the criteria you listed. Trinity IS a liberal arts college in the middle of the seventh-largest US city.

My son will attend Kalamazoo College in Kalamazoo, Michigan after his gap year this year. While it is in a very small city, and not a large city like some of the other cities mentioned here, that small city nonetheless provides a very different surrounding environment as compared to other midwest LACs that he considered. Moreover, there is also a large state university there, Western Michigan University, so that, too, offers more options in terms of activities.

He also considered Lawrence in Appleton Wisconsin, which is another small city.

Clark University is not an LAC per se, but it has many of the qualities of one. And it is about an hour away from Boston. The school provides a weekly bus to Boston, as well.

To add to the above comment: My son just started at Kalamazoo College and is happy with his choice so far. With almost 1500 students, it offers a small city with 72,000 residents in an artsy supportive setting in a county of 200,000. There is a local airport with flights with most major airlines as well as an Amtrak station. It's less than an hour from Grand Rapids and about 140 miles from Chicago and Detroit. With symphonies, theaters, and a monthly ArtHop where local artists show their work in local downtown businesses as well as quality science departments, Kalamazoo offers a balanced liberal arts setting with challenging academics and generous merit offers.

Southwestern University is 30 minutes from downtown Austin, 10 minutes from Round Rock and it's already pretty contiguous development from Austin to Georgetown. Randolph-Macon is in the suburbs of Richmond, VA.

No need to change trains from Drew University (Madison, New Jersey) to NYC (Penn Station). NJ Transit commuter trains run direct with no transfer in Hoboken. A transfer was necessary some years back, but no longer.

You can walk to the commuter station in Madison from the Drew campus in perhaps 10 minutes time. The train ride to Penn Station is under one hour. For those not familiar with NYC, Penn Station is located at 34th street and seventh avenue literally right beneath Madison Square Garden. Passengers can access many NYC subway lines at Penn Station along with the Long Island Rail Road (commuter line) and Amtrak.

Thanks Mike for filling us in on the trains from Drew University to NYC. It's nice to have blog visitors from across the country to fill us in on these kinds of details!

Lynn O'Shaughnessy

I'm a proud alum!

As a consequence of its close proximity to NYC, Drew offers three Manhattan semesters (United Nations, Contemporary Art and Wall Street). My understanding (which may be a bit imperfect) is that Drew students take the train into the city (from Madison) three days each week when participating in one of the semesters.

Rollins College is in Winter Park, FL which is part of metropolitan Orlando

Thanks for the suggestion Donna. I don't think Rollins College is technically a liberal arts college. The designations of "college' and "university" can be misleading.

Lynn O'Shaughnessy

It probably depends on what someone considers a "city." But just to add, since you mentioned Fisk in Nashville, there are also Aquinas, Trevecca, and Lipscomb within the Nashville metro area.

Lynn, thanks for once again providing such useful information in one handy place.

Hi Stuart,

Bard and Vassar are about 1 1/2 and 2 1/2 hours away from NYC. That's stretching it. I would say most liberal arts colleges are within that distance from a major metropolitan area.

Lynn O'Shaughnessy

But Bard and Vassar are in communities served by the Metro North commuter railroad. The trip to NYC by train might even be shorter than it is from Madison, where Drew University is located. Passengers who take the train from Madison to New York must change trains in Hoboken while those who take trains from the NY towns go directly into the city.

Bard and Vassar are fairly close to NYC and Oberlin is within 45 minutes of Cleveland.

Trinity University is a great small liberal arts and science university in San Antonio. San Antonio is a fun city with plenty to do. The airport is just 10 minutes from the school.

Thanks for your suggestion, but Trinity University is not a liberal arts college.

Lynn O'Shaughnessy