Millions of parents believe that private scholarships are the largest source of college money. When many parents contemplate how they are going to pay for college, they envision their children hustling for private scholarships that are offered by foundations, charities, companies and civic groups.
Private scholarship, however, represent the smallest source of college money. For most students, it's likely that the other 
chief sources of college aid – from state and/or federal agencies and the colleges themselves – will provide much greater financial help.
There is, however, roughly $11 billion a year available in private scholarships that students can potentially earn. If you'd like your child to compete for outside scholarships, here are 12 things you need to know:
1. Don't count on the name-brand scholarships
The competition for nationally known private scholarship such as the Gates Millennium Scholars, Dell Scholars and the Intel Science Talent Search is fierce. The Coca-Cola Scholars, for instance, received 112,000 applications in a recent year for its 250 awards. This makes Coca-Cola Scholars about 25 times as selective as Stanford.
2. Look for scholarships locally
Your children will face better odds if they focus on capturing local scholarships. These are the scholarships that turn up through your high school counselor's offices, libraries, parent workplaces or in the local papers.
They aren't as easy to find so not as many students will be applying. In fact, national scholarship sites like Fastweb, Scholarships.com and the College Board's search engine usually don't have these local contests in their databases.
3. Know the drawbacks of college search engines
Kim Clark, a friend of mine, wrote a Money magazine article in 2013 that revealed how flawed private scholarship search engines are.  Clark recruited teenagers to test out 10 popular scholarship search engines including:
The magazine was interested in discovering how helpful the sites were by measuring such things as mismatches vs. promising matches that they generated for users. The results were dreadful. For instance, 40% of the first 20 scholarship suggestions that the College Board website generated were mismatches.  None of the first 20 suggestions that Fastweb produced were deemed promising.
To learn more, here is Clark's article: Nab More Cash for College.
4. Be aware of the financial aid trap.
Students who win private scholarships are often surprised to discover that their awards end up reducing their financial aid package. Since students have to report all outside scholarships to the financial aid offices, many schools see this as an opportunity to save some money and reduce the amount of the money they awarded the student.
In cases where the amount of the scholarship would push the total financial aid award to over the cost of attendance for the school, the federal government requires schools to adjust the financial aid award. You can't receive more money than it would cost to go to school.
If a teen wins a private scholarship, the college could shrink his or her financial aid package by the amount of the award. So if a child wins a $3,000 scholarship, the college could cut the aid package by $3,000. In the best-case scenario, the school will reduce the loan portion of the package by the amount of the outside scholarship, but it can shrink the grant or reduce both the grant and loan portion. The school could also reduce or eliminate a work-study award.
Each school maintains its own policy on how it applies an outside scholarship to a student's financial aid package. You should check with each school for its policy regarding outside scholarships.
Ironically, the scholarship practice will not affect the students most in a position to afford college. Affluent students who receive merit scholarships from their schools don't have to worry about outside scholarships shrinking their awards.  Higher-income students, who don't qualify for financial aid, can earn any number of outside scholarships and it won't jeopardize their institutional merit scholarships.
5. Use the scholarship search engine for institutional scholarship.
You are more likely to encounter luck with talent scholarships if you look for merit scholarships from the schools themselves.
An easy way to search for merit scholarships is through Cappex. Cappex formerly called its institutional scholarship search engine MeritAid.com, but it is now incorporated into Cappex. Consequently, you have to be careful to look for institutional scholarships on the site since Cappex also allows you to search for private scholarships.
Schools routinely provide many merit scholarships to their accepted students automatically. All students have to do is fill out the admission applications to qualify. Cappex does include these institutional scholarships, but the site will also alert you to in-house awards that can require a separate application to win.
 Colleges award these extra scholarships for such talents as leadership, volunteerism, artistic and musical ability, entrepreneurship and writing. Some schools also award separate scholarships for particular majors such as philosophy, business and nursing. All these scholarships can have far less competition than outside scholarships.
When looking for institutional scholarships on the Cappex site, type in the name of a school and then click on the Merit Scholarships hyperlink.
To illustrate what you'll find, here is a partial list of the institutional scholarships offered at the flagship campus of the University of Maryland.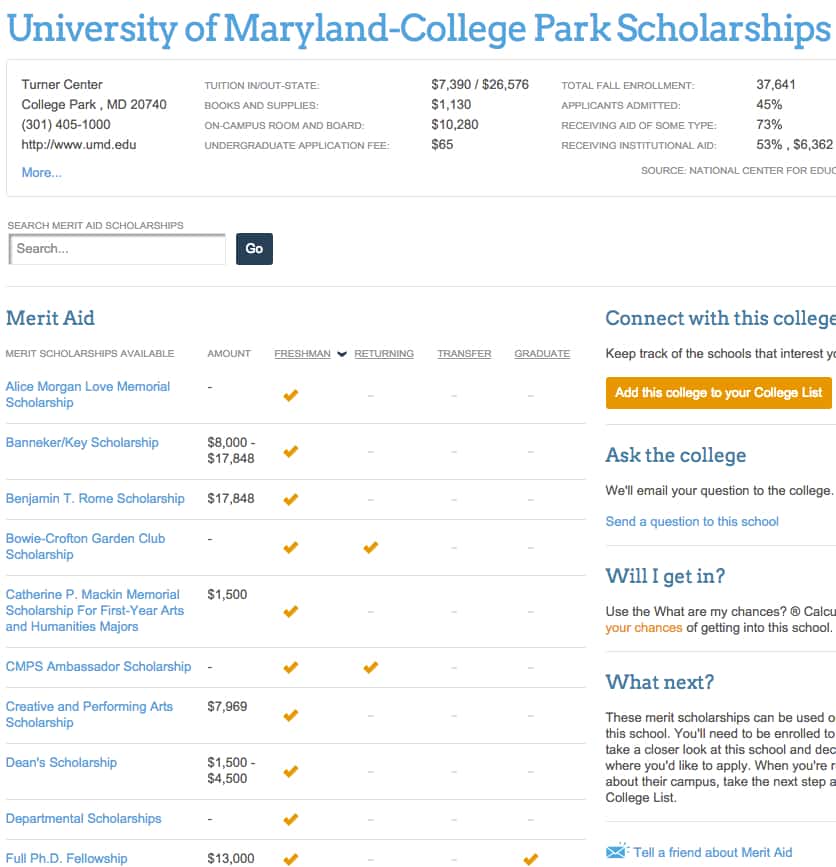 After you've generated a list of scholarships, you can click on the name of any scholarship and find a description of the award.
6. Apply for scholarships that require an essay.
Students tend to dismiss competitions requiring the submission of art, poetry, or writing, which can make the odds of winning better. The Wow Writing Workshop, an online resource for learning how to craft better college essays, maintains a list of private scholarships that require an essay.
7. Volunteering increases scholarship chances.
Many private scholarship providers include a requirement that recipients be engaged in volunteer activities. Sponsors often would rather see a student who sticks with one volunteer activity for a long time than one who hops around to various charities.
8. Pay attention to deadlines.
Some of the biggest scholarship jackpots impose fall deadlines. In addition, one of out four private scholarships listed with the College Board has February deadlines.
9. Look for scholarships on Twitter.
Use hashtags such as #scholarships, #meritscholarships, #financialaid and #privatescholarships. Via Twitter, you should find information 
about private scholarships from scholarship providers, schools, counselors and others. When you locate people who are providing valuable information about scholarships, start following them. Also check to see whom these people are following.
10. Check scholarship expiration dates.
Most of the scholarships will only last for one year. You will have to repeat this process every year to find new scholarships. Pay attention to scholarships that are multi-year or allow you to apply and win more than once.
11. Be organized.
To get the most out of private scholarships, be organized and apply for as many as possible. That means keeping deadlines, requirements, and recommendations in one place. Students need to give themselves time to write the essays and try to ask for any letter of recommendations at one time.
12. Read up on private scholarships.
If you'd like to learn more about private scholarships, a handy resource is a slim book with an ugly cover, Secrets to Winning a Scholarship, that Mark Kantrowitz, one of the nation's most respected financial aid experts.
Lynn,
If your child's second choice college offers more merit and you want to use it to negotiate more from his first choice college who would you talk to about that..i.e. Financial aid, admissions…?

Thanks,
Mary Lu

Hi Mary Lu,

I would contact the admission office and ask who would be the appropriate person to talk with. I'd have your child do this and if she has had a connection with an admission rep at this school, have her reach out to that person with this question.

Lynn O.

Hi Lynn,

I am enjoying the class and learning so much.

Our daughter graduates from high school May 2016. Her ACT composite was 32, GPA of 4.0+ and will graduate with an IB diploma.

Our EMI calculation indicates parental contribution is $35,000 a year. That is our entire savings outside of retirement savings.

Our younger daughter has had life-threatening health issues over the last 12 years since she was 3, requiring treatment and rehabilitation. I did not work during that time as I was the major support for her treatment and rehabilitation. My husband did work during all that time and had a good salary, but it seems quite impossible to be able to foot $35,000 a year.

Our savings would cover a little more than one year of in state tuition and housing, in Virginia where we reside.

From what I am reading in the class, our only option to cover the cost of attending a Virginia state college/university (because of the EMI calculation) would be merit scholarships from sources outside the university – and – maybe possibly merit scholarships from the university. (She would like to go to either William and Mary or U VA).

Am I understanding this correctly?

I think it would be highly unlikely for her to get more than maybe $3,000 in scholarships coming from the Northern Virginia area where there are many students with high GPAs and ACT scores.

From what I am reading in the class, if she chose to attend a school like University of Evansville (she is interested in creative writing) or University of Iowa, we would still be required to contribute $35,000 (based on the EMI calculator) or $29,000 (based on the IM calculator) a year.

Am I understanding that correctly?

I am coming to understand that our only realistic option is community college for 2 years and then transfer to William and Mary or U of VA. This is disappointing, given how diligently she has worked towards her IB diploma and her good grades.

Thank you for your time.

Hi Ann,

Your daughter will have more options than your state schools. I should mention, however, that College of William and Mary and UVA give very little merit aid. Many states schools outside of Virginia will give your daughter good scholarships. The state schools with the biggest brand names like Michigan, North Carolina and the University of California will not be options because they have plenty of students who want to go there. They will be very expensive. Look at other state universities that are eager to have students with high test scores and GPAs. State schools typically reward students based on their GPAs and scores.

Schools that are aggressive in this area include U. of South Carolina, Arkansas, Alabama and Arizona State. There are plenty of others. Just look on each school's websites for what the requirements are for scholarships for nonresidents. She should look at the honors colleges at these universities.

Here is a post on a report that you should read on state universities:
https://www.thecollegesolution.com/a-state-university-arms-race/

I would also read the lessons to learn about the realities of private colleges and affluent students in the Targeting Schools for the Most Money, Parts I and II and Tools to Find Generous Colleges.

Private scholarships will be a very small source of money and I would aim for local ones if you want to try. I also would not suggest a community college for your daughter.

Lynn O'Shaughnessy

Thanks Lynn. Appreciate the comments. I also started up on CollegeData.com that you mention in the course. It is a terrific tool!

Again, Thanks!

Sorry, that should be Quest Bridge – questbridge.org — they're linked to some 35 private colleges — only one of which my daughter is interested in because of her focus on acting/theater.

Hi David,

QuestBridge is an excellent scholarship opportunity. I am sure many of the elite schools associated with QuestBridge offer acting. These scholarships go mainly to first-generation students and most of the families have incomes below $60,000 and many below $50,000.

Last year I was helping a young girl apply to QuestBridge who was a top student, and just as importantly, was very involved in her community. She was being raised by her grandmother (her mother was a drug addict and her dad was dead) and drug dealing was happening right outside their door.

Lynn O.

Lynn O.

Are you familiar with an organization called BridgeQuest that offers help to "promising outstading juniors" who come from low-income families? I'm wondering if they're worth my youngest daughter's time to apply.