Stingy Catholic Universities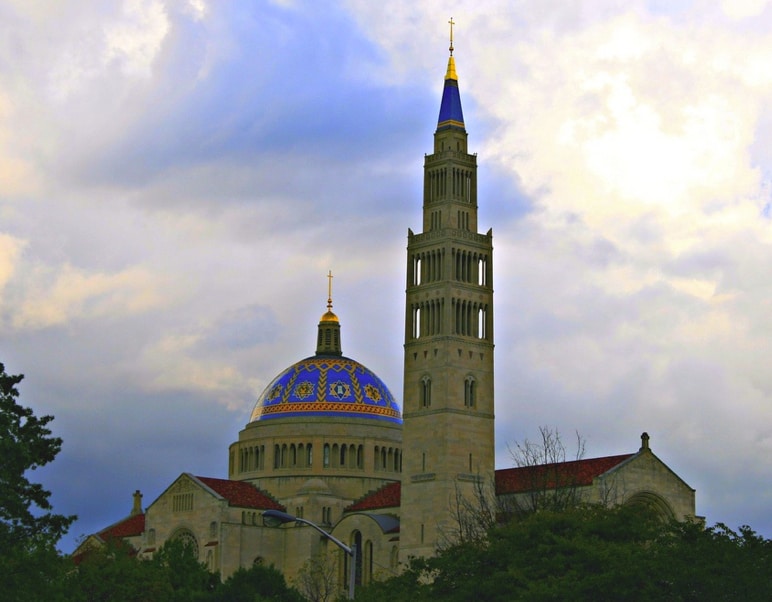 For families who struggle the most with college costs, some notable Catholic universities are among the nation's stingiest.
This has been one of my long-standing pet peeves so I was intrigued when I saw that Time magazine published the following article over the holidays that highlighted this discouraging reality:
The Time article relies heavily on the second of two landmark reports that Stephen Burd, a highly respected higher-ed journalist and researcher, conducted for the New America Foundation. These reports document the higher-ed industry's disturbing preoccupation with attracting ever more affluent students at the expense of needy applicants.
Here is the link to first study, which was published in 2013, as well as the link to the second, which was published last fall:
Undermining Pell: How Colleges Compete for Wealthy Students and Leave the Low-Income Behind
Undermining Pell Volume II: How Colleges' Pursuit of Prestige and Revenue is Hurting Low-Income Students
Discouraging Students From Attending
The Time article led off with an acknowledgement from Catholic University of America in Washington, D.C. that you might find startling. The school sometimes invites low-income applicants and their parents for counseling to encourage the students to attend a less expensive school.
Here is an explanation of this Catholic U. practice from one of its top administrators: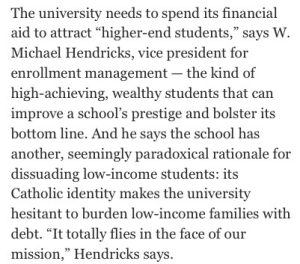 I found Catholic U's explanation particularly galling because Catholic churches across the United States take up collections for this particular university to support its educational mission.
I wasn't shocked that Catholic U. was favoring richer students who could bolster the institution's college ranking, but I was surprised that an administrator was acknowledging the school's motivation. Affirmative action for the rich is quite common place today among the nation's colleges and universities, but it's not something that schools talk about publicly.
In reality, there is a fine line that colleges must straddle to offer merit scholarships to attract affluent students, who can pay more of the tab which can, in turn, help subsidize the education of lower-income students.  This is especially critical for schools that don't have a large endowment and most don't. 

Private Universities That Cost The Most for Poor Students
The following list of schools, generated by the second Pell study, represent the most expensive private schools that also enroll the lowest percentage of low-income students. (The number of low-income students is measured by the percentage of their students who qualify for the federal Pell Grant.)
Next to the name of each school is the average net price that the poorest students at each school are expected to pay for one year of schooling. (These figures are outdated so the costs should be higher today.) I boldfaced the Catholic schools:
Catholic University $30,770
St. Joseph's University $30,503
Quinnipiac University $29,248
Boston University $26,947
High Point University $24,721
Furman University $24,522
St. Louis University $23,882
University of Dayton $21,520
Loyola University Maryland $20,493
Carnegie Mellon University $20,372
Bentley University $19,429
Stonehill College $19,411
Notre  Dame University and the Poor
The Pell studies also document that Catholic schools (as well as secular ones) with large endowments often don't accept as many disadvantaged students as their large endowment might suggest they absorb.
According to federal statistics, for instance, only 11% of students at the University of Notre Dame, which sits on an endowment worth nearly $7 BILLION DOLLARS!!!, are low-income.  Notre Dame has at its disposal the 12th largest endowment all among colleges and universities.
At a college fair in New Jersey a couple of years ago, I asked Notre Dame's admission director why his rich school had such a low percentage of low-income students. I think he was stunned by the question because he just stared at me for awhile. I didn't know if he thought the question was impudent or he was struggling for a way to answer without making Notre Dame look bad. He ended up declining to answer and told me to contact the person in charge of financial aid instead.
Jesuit Universities and the Poor
There are plenty of other Catholic institutions that didn't make the list above that are also expensive for the low and middle-class. Among those are Jesuit institutions (there are 28 Jesuit colleges and universities in all) that are primarily located in major metropolitan areas, which are locations that students tend to favor. These schools can charge more just because they are located in cities like New York, Chicago and Los Angeles. FYI, Jesuits must take a vow of poverty when they enter the order and these institutions pride themselves on stressing principles of social justice. Hmmmmm.
According to the latest federal statistics (from the 2012-2013 school year), Santa Clara University was charging $22,527 (net price) for families earning $30,000 or less a year while Seattle University was charging $27,019 for those impoverished families. Fordham University was charging them an average net price of $22,577.
During a visit to Fordham with some college consultants a couple of years ago, I asked an administrator why Fordham gives such poor aid packages to students with financial need. The administrator acknowledged that the aid packages weren't as good as they'd like, but he insisted that the school does better with needy students in Fordham's own Bronx neighborhood.
I later ran Fordham's net price calculator by pretending to be an impoverished African-American boy, with stellar SAT scores, GPA and class rank, who was living in the same zip code as Fordham. The aid package was still poor.
I reran Fordham's net price calculator today by once again assuming that the student was a brilliant black teenager from the Bronx. My hypothetical student had an unweighted GPA of 4.0, an SAT score of 2250 and a family income of just $25,000. According to the calculator, this child would be expected to pay $32,200 for one year at Fordham!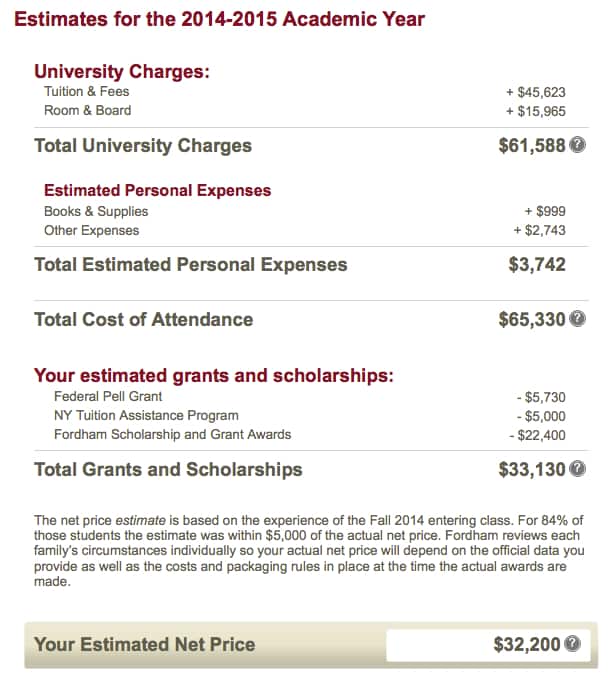 You can run your own figures by using the net price calculator that's available on any school's website. You can also find the average net price for any school by heading to the federal College Navigator, but keep in mind that these figures will be at least two years old. Here is a screenshot of the net prices by various income categories for Seattle University, which is another expensive Jesuit institution.

Where Are the Generous Catholic Institutions?
I'd love to hear about Catholic schools that are actually generous to students who need financial help. As far as I've been able to tell, Georgetown University offers the lowest net price for disadvantaged students ($10,197) among prominent Catholic institutions. The average net price for low-income students at College of the Holy Cross is $13,791. Both of these are Jesuit institutions.
Why So Stingy?
I once asked a higher-ed consultant why he thought so many Catholic institutions are miserly when it comes to helping low and middle-income students. He suggested that Catholic families have spent many years sacrificing to send their children to parochial schools from kindergarten through high school because they believe it is important. (That's what my parents did to send their five children to Catholic k- 12 schools.) When Catholic parents' children are getting ready for college, many hunker down financially to absorb much steeper price tags.
I think Catholic colleges and universities also enjoy an advantage with an extensive feeder system. Counselors at Catholic high schools across the country automatically recommend Catholic college and universities when helping their students with their college lists. The counselors often make these recommendations without having any idea of whether their students can afford the prices.
 A Poor Child Who Benefited from a Jesuit Education

I should mention that I feel strongly about this issue, in part, because of the experience of my father, Vincent Patrick O'Shaughnessy. My dad was a poor Irish kid growing up in St. Louis when he received the invaluable gift of a free Jesuit education.
I wrote about my father's great fortune and the generosity of the Jesuits in this blog post back in 2009:
The education that my dad received changed his life completely and ensured much better lives for myself and my siblings.
It is beyond discouraging that many universities and colleges, regardless of whether they are religiously affiliated or not, are shortchanging the neediest college students in the hopes of capturing higher college rankings. It's easy to educate rich students, but I doubt anyone will be getting rewards in heaven for doing that.